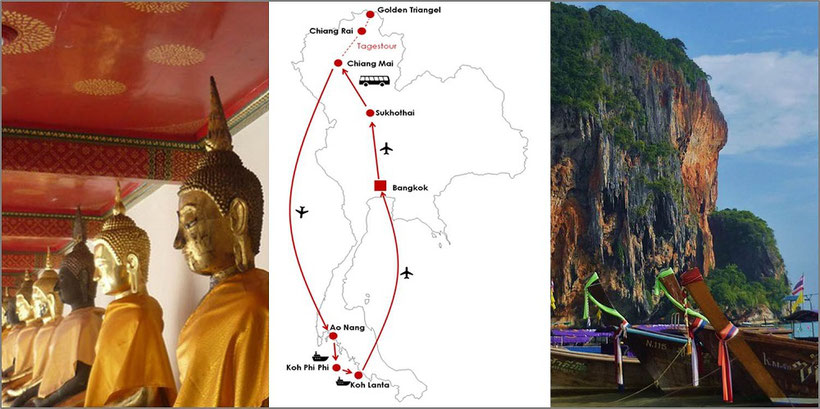 Thailand is a dream destination for many travelers. It is considered to be a safe travel destination, it has beautiful landscapes, an interesting culture and above all it is very cheap. Depending on the season and your own demands, the costs for an itinerary may vary considerably. To give you an idea how much to budget for 2 weeks of flashpacking in Thailand during high season (around Christmas and New Year´s Eve), I listed all our expenses.
---
How much to Budget for 2 Weeks Flashpacking in Thailand (High Season)
Flashpacking
Some of you may never heard of the word flashpacking before. This is why I start with a short explanation of it. The word flashpacking is derived from the words "flash" (like snobbish) and "backpacking". So the expression flashpacking is used for travelers who travel through a country individually with a backpack but with a certain degree of comfort. Which means they prefer a single or double room in a middle class hotel instead of a dorm in a hostel, for longer distances they take an airplane and not a bus, additionally to street food markets they like to eat in nice restaurants, an expensive cocktail in a skybar is sometimes a great alternative to a cheap bear in a pub and so on. Furthermore, in contrast to backpackers most flashpacker have more budget and plan more in advance because most of them only have their annual leave for travelling and therefore less time.
---
Hotel Costs Thailand
Expenses for an accommodation as well as for food and drinks may vary the most. For example there are hostels in Thailand where you can rent a bed in a dorm for 6€ per night, also in high season. In contrast, for a suite in a 5 star hotel you have to spend hundreds of Euros. The most expensive room I found in Bangkok on the well-known hotel booking sites was about 2500€ per night. I am glad that in Thailand there is an option for every budget. Like flashpackers do, we always booked a double room with bathroom in a middle class hotel in the city center. In Bangkok we paid 35€ per night and room, in Chiang Mai 30€ and in the South of Thailand approx. 54€. Our hotels in Bangkok (Cacha Hotel), Krabi (Ao Nang Miti Resort) and Koh Phi Phi (Phi Phi Relax Beach Resort) were great. Especially the Phi Phi Relax Beach Resort is very recommendable due to its private beach which can only be reached by longtail boot. The hotel in Chiang Mai and Koh Lanta were okay, but I think there are better alternatives for the same budget.
Costs middle class hotels in the city center / double room with bathroom: 
2 nights Bangkok 

70€

 
4 nights Chiang Mai 

120€

3 nights Krabi

170€

2 nights Koh Phi Phi

125€

2 nights Koh Lanta 

80€

1 night Bangkok 

35€
--> Costs per person 300€
---
Flight Fares Thailand
Fares for flights from Germany to Thailand are quite stable. If you don´t need a direct flight and if you don´t care about the travelling times you can book a flight at the end of December / beginning of January for approx. 500€. I would always prefer a direct flight. Planning early you will get a flight for approx. 650€ (e.g. FRA - BKK and back). Of course you don´t have to book any domestic flights because it is possible travelling by train or bus but 2 weeks are pretty short and fares for domestic flights quite low (approx. 70€). Thus, I would prefer to save time and take some domestic flights.
Flights FRA - BKK and back 

650€

Flight from Bangkok to Sukhothai 

70€
Flight from Chiang Mai to Krabi 

100€

Flight from Krabi to Bangkok 

40€
---
Other Costs of Transfer
I don´t want to bore you with every single fare of all rides. Therefore, I give you just the total cost of all other transfers. In total we paid approx. 70€ per person for all other transfers (taxis from and to the airport, bus from Sukhothai to Chiang Mai, ferries to the different islands and taxis / tuk tuks within the cities). Let me also tell you that we loved to take taxis :) But don´t take a taxi in front of the world famous tourist attractions. It is very expensive. 
Just some examples: 
Taxi from Bangkok airport to the city center approx. 10€
Bus from Sukhothai bus station to Chiang Mai approx. 8€
Ferries from Krabi to Koh Phi Phi and from Koh Phi Phi to Koh Lanta both approx. 8€
--> 70€ per person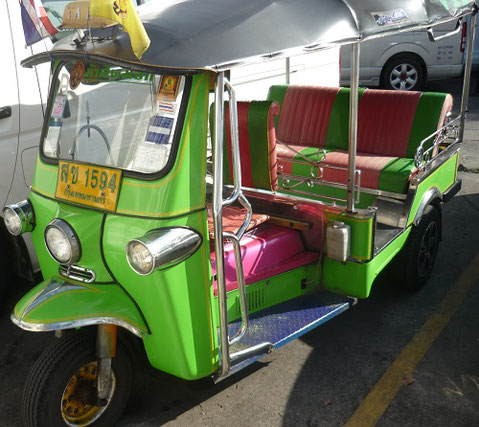 ---
Fees Tourist Attractions Thailand
When visiting Bangkok and Sukhothai you should not miss the Grand Palace, Wat Pho, Wat Arun (Bangkok) and the historical park (Sukhothai). In Chiang Mai one of my highlights was Wat Phra That Doi Suthep but the Chiang Mai Night Safari is a tourist trap in my opinion and can be missed out. Furthermore, there are many temples in Chiang Mai which can be visited free of charge.
Bangkok
Grand Palace Bangkok 

12€

Wat Pho 

3€

Wat Arun 

2€

 
Sukhothai
Chiang Mai 
Night Safari 

12€

 
Wat Phra That Doi Suthep 

1€

 
 --> 40€ per person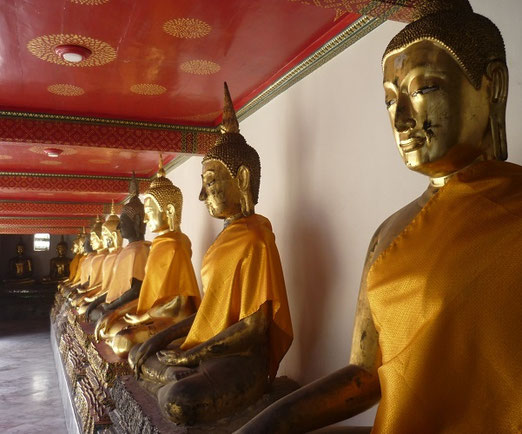 ---
Day trip
We tried to explore everything on our own but I wanted to see more from the North of Thailand than Chiang Mai. Because there was not a lot time, we decided to book one single day trip. In total the tour was very nice. My highlight was the White Temple in Chiang Rai. The Golden Triangle was not very interesting in my opinion and visiting the long neck women was a little bit like visiting a zoo.
Day trip inclusive lunch, drinks, and all entrance fees: Pick up at the hotel -  hot springs - White Temple in Chiang Rai - lunch - Golden Triangle - Boot trip at Mekong river - Market in Laos - Long neck women 
--> 50€ per person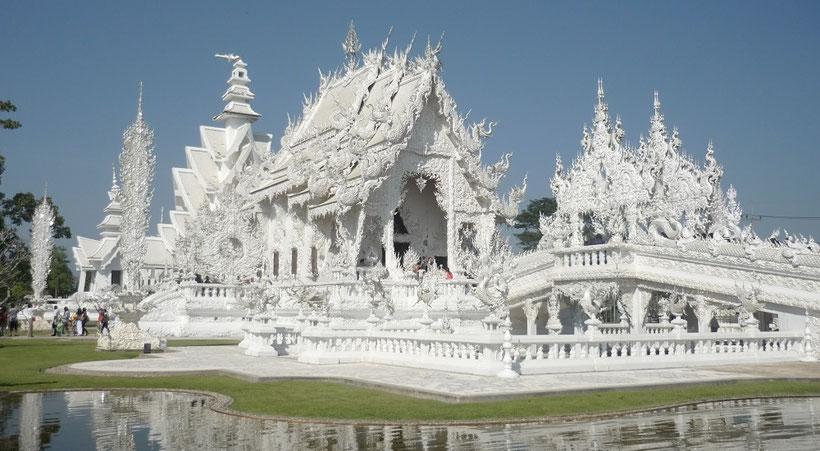 ---
Food and Drinks
I don´t want to list every single water bottle we bought, therefore I just give you the total cost. In general food is very cheap in Thailand. Of course some special restaurants and bars can be expensive like the Vertigo Sky Bar in Bangkok, where you can spend easily 15€ for a cocktail or the restaurant Cabbage and Condoms. There you pay approx. 10€ for a main dish inclusive one drink which is already expensive in Thailand. We spend approx. 200 Euro (not even 15€ per day) in 2 weeks. It is definitly possible to spend less and of course it is always possible to spend more.
--> 200€ per person
---
--> Budget 2 weeks Thailand flashpacking during main season: approx. 1550€ per person 
---
Feel free to safe this post on Pinterest: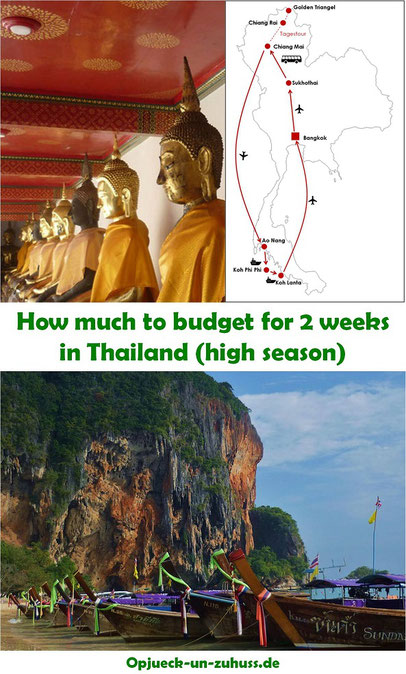 ---