When travelling through Yucatan a visit to the Mayan ruins of Chichén Itzá is an absolute must do. The old Mayan city, which is part of the UNESCO World Heritage, is the highlight of the Mexican half island. Although it is not possible to climb the imposing buildings, I am sure these ruins will highly impress you. Here are some tipps and recommendations for a visit of this world famous tourist attraction:
---
Tips for visiting Chichén Itzá
General information Chichén Itzá
Opening hours: Daily 8 a.m. - 5 p.m.
Admission fee: 70 Peso entrance, 172 Peso taxes(both can be paid in cash or with credit card)
ATM: In front of the entrance 
Travelling to Chichén Itzá: By ADO bus or by car (large parking area) 
Travelling from Chichén Itzá: By taxi to the local ADO station, then by ADO bus
Luggage: There are lockers for small luggage and a luggage room for large backpacks or suitcases (to leave one large backpacks costs 100 Peso)
Time needed for a visit: At least 4 hours
Souvenirs: On site you can buy beautiful souvenirs. Thus bring some cash.
Drinks: There are some small shops on site to buy some drinks.
---
Tips for visiting Chichén Itzá
Arrive before 9 a.m.
At first visit the Kukulcán Pyramid and the ball court. Later these spots will be very crowded
Bring some cash for the beautiful souvenirs
Never accept the first price when buying souvenirs
Plan enough time for your visit - at least 4 hours 
Check the ADO schedule before your visit (E.g. first class busses to Mérida are rare)
---
The Mayan Ruins of Chichén Itzá
Kukulcán Pyramid, Chichén Itzá
A wide path with many stalls leaded us to the most famous and most impressive building of Chichén Itzá the 30-meters high Pyramid Kukulcán. I can really recommend coming here early, because we enjoyed the imposing landmark of this UNESCO World Heritage site without masses of tourists.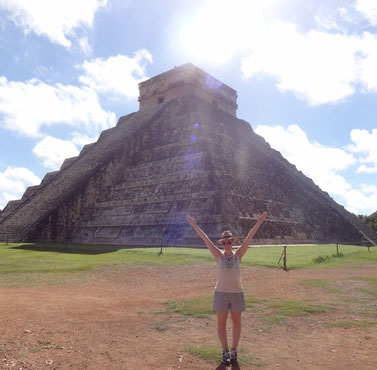 Then we walked eastward and recognized for the first time how big the site is and how many well-preserved buildings can be seen. 
Buildings in this part of the site:
Plataforma de Venus
Templo de los Guerreros 
Plaza de las 1000 Columnas 
Templo de las Columnas Esculpidas
El Mercado
Cenote Sagrado, Chichén Itzá
Afterwards we walked to Cenote Sagrado. We passed by a 400-meters long path, where again many stalls are located. Actually there are stalls everywhere and you can buy really nice souvenirs like Mayan masks. So better bring a lot of cash and never accept the first price offer! When we looked at a mask, the seller directly gave us a price. We procrastinated only a few seconds and got a much better price for two pieces. We tried to explain that the price is okay for us but we will come back at the end of our visit to buy it. The seller didn´t want to accept that and after a long discussing, we bought two masks for a very cheap price.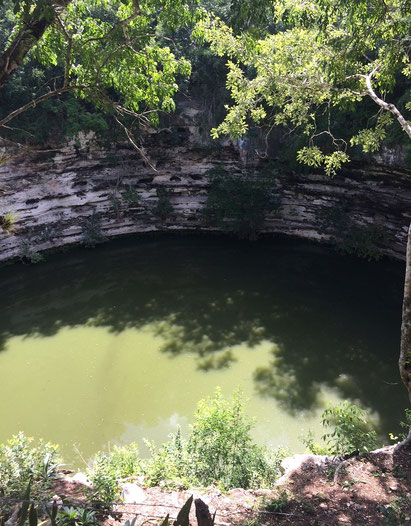 Shortly after we arrived at Cenote Sagrado. It is not possible to swim here but the green water is not very inviting anyway. Moreover, during different water analyses valuable artifacts but also 50 human skeletons were found. Therefore it is assumed that the Cenote was a place of sacrifice.
Next to the water hole is a small café where we bought some drinks before walking to Juego de Pelota, a huge ball court. This court has a surface of 168 x 36 meters. It is the largest of its kind which was found so far in mesoamerican ruins. I can hardly imagine how the players kicked the ball through the small rings which are located 7 meters above the court without using their hands or feet.
Juego de Pelota, Ball Court, Chichén Itzá
Then we discovered the last area with large buildings: 
Plataforma de las Tumbas
Osario
Observatorio
Templo de los Tableros Esculpidos
La iglesia
Las Monjas
It took us 4 hours to completely explore the 1547 hectares. During lunchtime you can recognize that Chichén Itzá has several thousand visitors every day. Therefore, we left and had lunch at the Mayan restaurant before going to the ADO station by taxi. (2 km, 40 Peso). Lucky us, we arrived there together with the bus to Mérida (172 Peso). It was a second class bus, so that we passed by many small villages. This took a little longer but it was nice to see many beautiful village squares with huge churches, colorful cemeteries, sport grounds and a lot more. After approx. 2 hours we arrived at Mérida. 
---
Feel free to pin this post on Pinterest: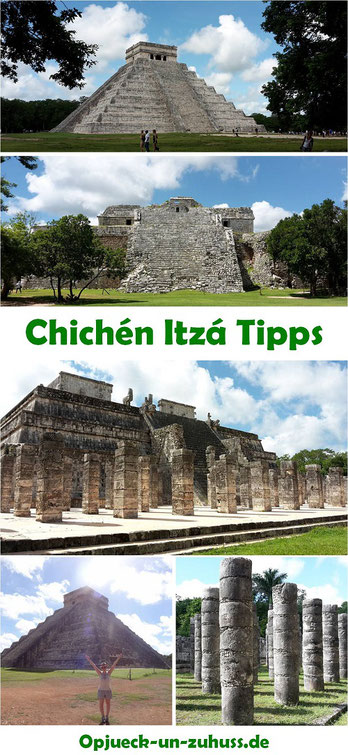 ---