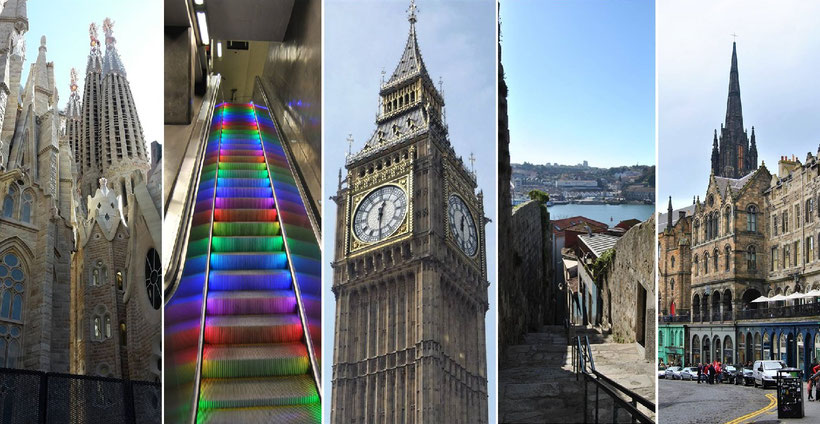 Why look far when everything good is so near? There are many amazing places in Europe which are perfect for a weekend trip. Here are my favourite ones:
---
City trip Europe - 5 great cities for a weekend trip
London - one of the most versatile cities in Europe
My very favourite city is London, because the British metropolis is more versatile than almost any other European city. There's almost nothing you won't find there: Countless tourist attractions, fantastic view points, huge parks, world famous museums, extraordinary bars, authentic pubs, cool night clubs, international restaurants, great street markets, hundreds of musical, theatre and comedy shows, an international street art scene, exclusive designer shops and a lot more. In this city it doesn´t get boring.
When a man is tired of London, he is tired of life - Samuel Johnson
Some of my favourite activities in London:
Discover new street art at Brick Lane
Enjoy a great view over the city (great view points: Sky Garden, Tate Modern, Hampstead Heath)
Have a nice cocktail in an extraordinary bar (Cahoots, Barrio Shoreditch, Ballie Ballerson)
Have a Lager in a typical pub (Ye Olde Cheshire Cheese)
Go shopping at some street markets (Old Spitalfields Market)
Eat street food (Brick Lane, Camden, Borough Market)
Walk along the Thames (e.g. from Tower Bridge to the West)
Visit a museum (Natural History Museum)
Enjoy the typical tourist attractions (Buckingham Palace, Big Ben, St Pauls, Tower Bridge)
Relax in a park
One more tip: Although London is one of the most expensive cities in the world, you can spend a pretty cheap weekend there, because there are countless free tourist attractions, cheap hotel chains and cheap restaurants. Here you can find my best money saving tips for London. Many other blog posts about London can be found here.
---
Barcelona - the perfect combination of city trip and beach holiday
In case you are uncertain which type of holiday you want to do next, city trip or beach holiday, go to Barcelona. In Barcelona you can enjoy the architectonical masterpieces of Gaudi, walk through the beautiful streets of Barrio Born or enjoy a fantastic view over the city from the mountain Montjuic. But you can also have a beach day at Barceloneta beach, which is located close to the city centre. In the evening you can eat delicious tapas or paella in one of the amazing restaurants and afterwards party till the break of dawn in many bars and clubs like in almost no other city.
10 things you cannot miss in Barcelona:
Sagrada Familia
Parc Güell
Magic Fountains 
Ramblas and Mercat de la Boqueria
Tapas (e.g restaurant Gats)
Barceloneta beach
The view from Montjuic
Barrio Born
Picasso Museum
The Gothic Cathedral of Barcelona
More information about Barcelona can be found here: "One week in Barcelona".
---
Porto - one of the cheapest cities in Europe
Porto is one of the cheapest cities I visited in Europe. A nice central accommodation starts (depending on the season) at 30€ per night and room, a delicious dinner in a restaurant including drinks starts at 10€ per person and some amazing tourist attractions are free of charge. You don´t need to think about prices for public transport because Porto is pretty small and it is possible to walk everywhere. 
Of course I don´t recommend to visit Porto just because it´s cheap, the city is also very beautiful. Personally, I loved Porto because of its many viewpoints, countless Azulejos (colorful painted ceramic tiles) which can be found all over the city and many beautiful churches. As a Potterheads it was also great to visit so many places that inspired J.K. Rowling when writing the first Harry Potter book. And the beach is also not far away - only 20 minutes by tram.
Things you should not miss in Porto:
The famous bridge Ponte Dom Luis I
The best 360° view of the city from the bell tower Torre dos Clérigos
The beautiful book store Livraria Lello
The beautiful churches
The historical old town Ribeira
The best coffee of the city from Combi Coffee
A tour through the Port Wine cellars including a wine tasting
A drink in a great bar (Capela Incomum, Frida, Miradouro Ignez)
Breakfast at the traditional bakery Padaria Ribeiro
A trip to the beach
More information about Harry Potter places in Porto, the most beautiful viewpoints and churches as well as restaurants, cafés and bars, can be found here.
---
Stockholm - Unique tourist attractions surrounded by water
I love cities which are surrounded by water and in Stockholm there is water almost everywhere, because the city of Stockholm is situated on fourteen islands. Furthermore, the Swedish capital has some unique tourist attractions like the old town Gamla Stan, one of the largest and best preserved medieval city centres in Europe or the Vasa Museum, which exhibits the only preserved seventeenth-century ship in the world. I was also truly impressed with Stockholm´s Metro stations, many of them are designed by different artists, and Drottningholm Palace. Not only the palace itself was stunning but also the huge palace garden with small exotic castles and buildings. More about Stockholm can be found here.
My favourite things in Stockholm:
Drottningholm Palace
SoFo Quarter (for shopping)
Street Food at Hornstull Marknad
ABBA Museum
Vasa Museum
Royal National City Park
Old town Gamla Stan
Viewing platform Gondolen
Metro art
Swedish Meatballs
---
Edinburgh - the perfect combination of the Middle Ages and modern times
Edinburgh, the second largest city in Scotland, offers a perfect combination of the Middle Ages and modern times. In the heard of the city on a huge rock lies "Edinburgh Castle". The impressive castle complex majestically overlooks the city and exudes a special ancient charm. South east of it is the old town, where you can feel the medieval atmosphere as well. Walk over the colourful Victoria Street, enjoy the hustle and bustle on the famous Royal Mile or get lost in many beautiful, narrow alleyways. In contrast, Newtown mainly consists of three parallel running streets, where you can find many shops or stylish restaurants and cafés. Everywhere in the city are great view points, which offer a fantastic view over Edinburgh. And as soon as you are done with city sightseeing, you can make a tour through Scotland´s breath-taking Highlands.
Best of Edinburgh:
Edinburgh Castle
Victoria Street
Royal Mile
Calton Hill
Many Harry Potter places
Dean Village
Greyfriars Kirkyard
Beautiful cafés like Café Spoon or Fredericks Coffee House
Museum of Scotland (View from the roof terrace) 
Newtown for shopping
---
Feel free to pin this post on Pinterest: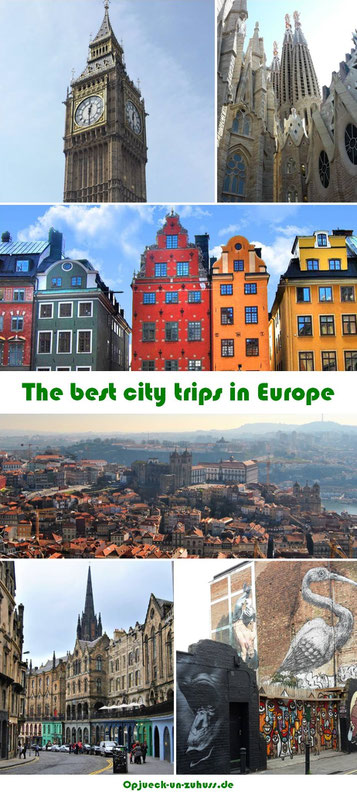 ---