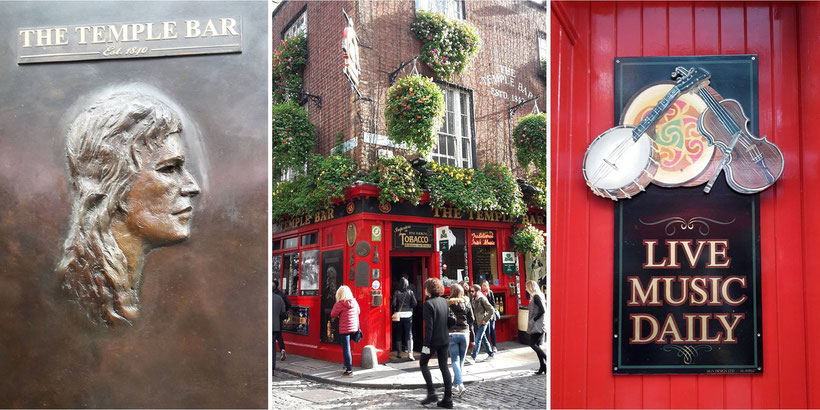 Honestly, I was a little bit disappointed by Dublin. But maybe my expectations were completely wrong. Somehow I expected traditional pubs with typical Irish music at every corner, medieval architecture everywhere, a mystical atmosphere, fairies, goblins and redheads, who only wear green and drink Guinness. Okay maybe that was slightly exaggerated but at least a little bit of this Irish flair would have been nice. Instead there was this small, expensive town, bathed in grey and not green tones at this season, with pubs playing Anastasia or the Black Eyed Peas. At least I found 10 things to do and see in Dublin which were really amazing.
---
Top 10 things to do and see in Dublin:
1. Trinity College, Long Room & Book of Kells
When visiting Trinity College in the city centre of Dublin I wanted to be a student again and study within these historical walls. The elite university of Irland is one of the oldest universities in Great Britan and exudes a special charm. Most impressive is the so called Long Room. To enter this almost 70 meters long "room" you have to buy a ticket (10-13€). In the basement of the old library there is an exhibition about the Book of Kells, one of the most important books of the Middle Ages worldwide. At the end in the treasure chamber you can see one page of the small book behind glass. On the first floor is the famous Long Room. The wooden room impresses not only by its 200.000 old books in bookshelves reaching from the floor to the ceiling but also by its beautiful vaulted ceiling and numerous busts of scholars like Aristoteles, Socrates, Shakespeare or Newton.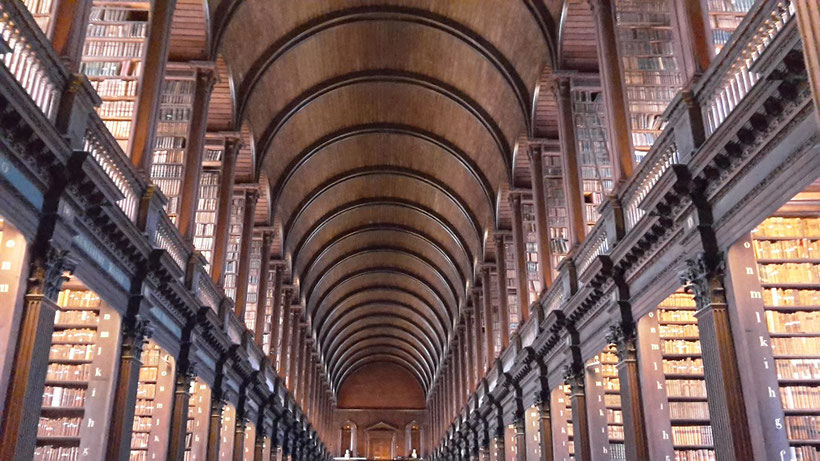 2. Guinness Store House
On seven floors you discover the history of the famous Guinness beer. On the top floor there is the Gravity Bar, a skybar with a 360° view over the city. In this bar you can also get your free Guinness which is included in the admission price.  You can also choose a Lager or softdrink. Opening hours: daily 9.30 a.m. - 7 p.m.; last admission 5 p.m.; Admission fee approx. 20€.
3. Dublin Castle
Dublin Castle is also located in the city centre. The imposing Record Tower reminds one that Dublin Castle was build in the Middle Ages as a fortress for the protection against enemies. The rest of the building became a castle or lets say manor house due to elaborate reconstruction works. Admission: daily 9.45 a.m. – 5.45 p.m. A guided tour (10€) lasts approx. 70 Minuten and includes the State Apartments, Chapel Royal and the Viking Excavation. For 7€ you can explore the castle by yourself (without Chapel Royal and the Viking Excavation).
4. Churches from the Middle Ages - St Patrick´s Cathedral & Christ Church
Dublins landmark, the St. Patricks Cathedral (admission 6€), is the biggest church of Irlands. It was build in 1191 and from 1860 there were elaborate reconstruction works financed by the Guinness family. 1500 years ago, before the cathedral existed, Saint Patrick had baptized many people here. Today Jonathan Swift, author of gulliver's travels, is buried here. In front of the cathedral is a nice free park, which invites visitors to linger. Not far away there is the Christ Church, which is even older than St. Patricks. It was build in 1028. But there is almost nothing left of the original construction because this church was fundamentally restructured in the 12th, 19th and 20th century. Admission 6,50€.
5. Saint Stephen's Green
Saint Stephen's Green is a large public park in the city centre with a big pond and small bridges. After shopping or sightseeing it is great to relax on the benches and admire the green grass, tall trees, colorful flowers or beautiful fountains. Who wants to visit a bigger park should go to Phoenix Park which is  approx. 3 km from Saint Stephen's Green. It is one of the biggest parks within a city in Europe.
6. Liffey
I love cities with a river in the city centre. In Dublin there is a river called Liffey and numerous small bridges cross it. 
7. Ha'Penny Bridge
The most famous one is the Ha'Penny Bridge close to the Temple Bar area. It is one of Dublin´s landmarks. In the past half a penny had to be paid to cross it. This is how the bridge got its nick name.
8. Irish Pubs and Traditional Irish Live Musik
We really had to search for a traditional pub with Irish live music. Of course there are numerous rustic pubs in Dublin and especially in the Temple Bar area but very often we had to listen to Anastasia or Maroon Five instead of Irish music, which was a little bit confusing. Finally, at Oliver St. John Gogarty, a lovely traditional pub, we found an amazing Irish band performing great traditional songs.
9. Shopping Streets and Centers in Dublin
It feels like the whole city is a shopping street because there are shops everywhere. Most famous for shopping is Grafton Street. Moreover, there are some nice malls like St. Stephen's Green Shopping Centre, Powerscourt Centre or Georges Street Arcade, one of the oldest shopping arcades in Europe.
10. Cafés & Restaurants in Dublin
Irland is definitively not famous for culinary delicacies. When I think of Irish food things like Irish Stew or Black Pudding pop into my head and I don´t like both. Therefore, I was pretty surprised about the great food in Dublin. For breakfast I can recommend the Busyfeet & Coco Cafe or The Good Food Store. For dinner the Italian restaurant La Gondola in the Temple Bar area is great. Diagonally opposite there is the Oliver St. John Gogarty pub.
Dublin is pretty small (half a million Inhabitants and 115 km²) and the most famous sightseeing spots are in the city centre. Therefore, just walk around and explore the atmosphere of the city. By the way, the airport is also not far and in approx. half an hour by bus you reach the centre.
---
Feel free to safe this post on Pinterest: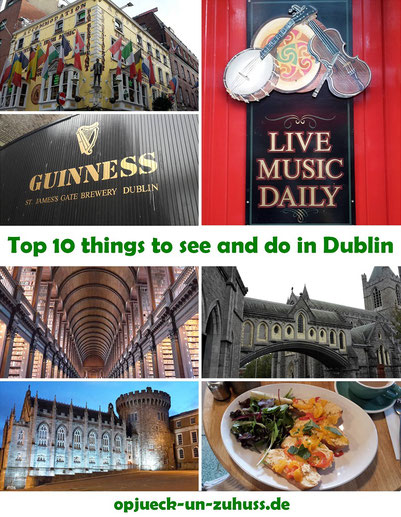 ---