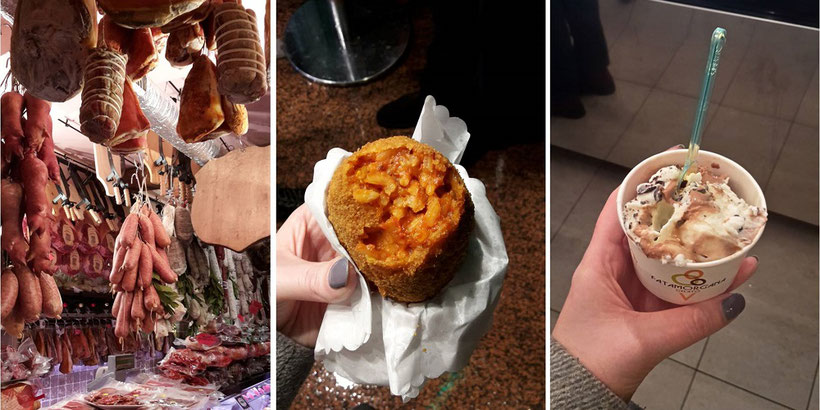 When thinking of Italy I think of pizza, pasta and gelato. Therefore, I really wanted to do a food tour during my trip to Rome. After some research I found a nice tour through Trastevere offered by Enjoy Rome. 
---
General informationen
Dates: Monday, Wednesday and Friday from 5.30 pm. to approx. 9.30 pm.
Cost: 59€ (incl. food, water, wine, prosecco)
Starting point: Campo de´Fiori
Route: From Campo de´Fiori via Ponte Sisto to Trastevere. The different restaurants are pretty close to each other, thus it´s not a lot walking.
Language: English
Group size: Max. 12 persons
Recommendation: Do the tour at the beginning of your trip. Then you have the possibility to visit a restaurant which you really liked again!
---
Start of the tour
We arrived about 10 minutes late and were lucky that the group was still there because our guide Marcello explained something about the history of Campo de´Fiori. When seeing us he directly asked if we tried to take the bus to get there. We said yes and he laughed. At the very few days it rains in Rome, public transport don´t really work, he said, but at least you made and we can start now. Then the whole group (a nice older couple from Copenhagen and a nice family from Texas) walked to the first stop:
Restaurants
1. Norcineria Viola Rom
The Norcineria Viola is a family-run business opened in 1890. The shop offers high quality sausage and meat products. Not only tourists like to shop here but also locals. For us they prepared a selection of nine different salami and ham sorts plus two bottles of red wine. But keep in mind that there are 6 other dishes waiting for you. You also have the possibility to buy a vacuum-packed meat selection to take it home.
2. Rimessa Roscioli Rom
The restaurant Rimessa Roscioli was my personal highlight of the tour and I am still sad that we couldn´t go there again because I got sick. At this restaurant we had the chance to try four different sorts of cheese; for example a fresh buffalo mozzarella, which just arrived from south Italy in the morning and a classical parmesan cheese. Furthermore, they serve a glass of very delicious sparkling wine.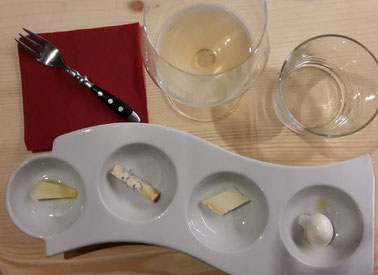 3. Forno la Renella Rom
Of course there is a stop at a pizza place when doing a food tour in Italy. Hence, we went to the historical pizzeria and bakery Forno la Renella to eat a delicious pizza Margherita. Since 1870 they bake here in the traditional way.
Did you know that a typical pizza Margherita represents the Italian flag? Red pizza sauce, white mozzarella and a green basil leaves. And did you know that the pizza Margherita was invented by the Italian pizza chef Raffaele Esposito in Naples when he was asked by king Umberto I. to bake a pizza for his wife named Margherita?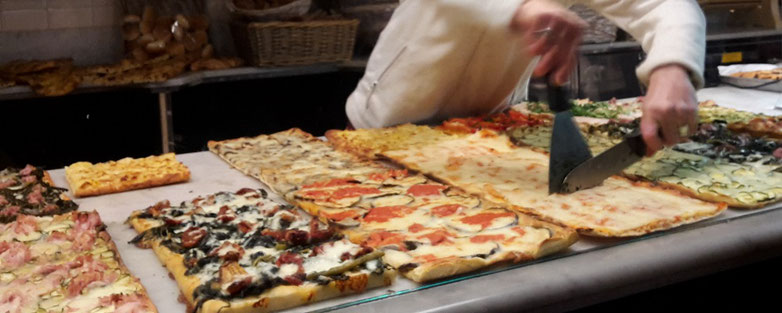 4. Casa del Suppli Rom
At Casa del Suppli we had a so called Suppli which is an Italian delicacies. The fried rice croquette has a thin and crunchy coating and is filled with rice, tomato sauce, meat and mozzarella - super delicious but extremely hot.
5. Antico Ristorante ai Spaghettari Rom
In the restaurant Antico Ristorante ai Spaghettari we had three different dishes because the restaurant, which should be the second stop, was closed between Christmas and New Years Eve. Therefore the Italian delicacies Baccalà Fritto, which is a fried stockfish, was served here.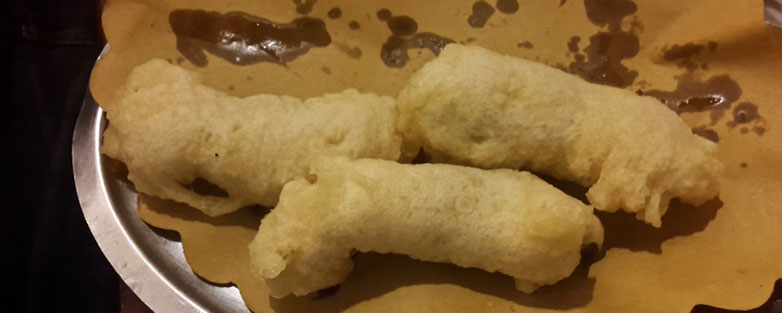 Afterwards we had two different pasta dishes: Spaghetti with pecorino cheese and pepper in a basket out of baked cheese and rigatoni with tomato sauce and small pieces of pork cheek. Furthermore, we could drink as much red and white wine as we liked. The walls of the restaurants showed that also Italian celebrities like Francesco Totti, former captain of the football club AS Rom, or the football coach Roberto Di Matteo like to have dinner here.
6. Fatamorgana Gelato Rom
Although I felt like I can´t eat anymore, I wanted some ice creme. Therefore we went to our last stop the ice-creme parlour Fatamorgana Gelato. They offer a great selection and it was hard to choose just two different sorts. My choice fell on stracciatella and chocolate with nuts. This may sound a little boring but for me it was the perfect choice and the perfect end of a great night with danger of addiction.
Conclusion:
Over all a great night! Additionally to super delicious, versatile and authentic Italian food we god a lot of information about Italian cooking. All restaurants are traditional businesses were also locals like to eat. Our guide Marcello also explained a lot about the squares we passed by and gave us some general tips for Rome. A special thanks to him!
Although you know all the places we visited, I wouldn´t recommend to do this tour on your own because you won´t get the same offer in all restaurants or all information we got.
---
Feel free to pin this post on Pinterest:
---