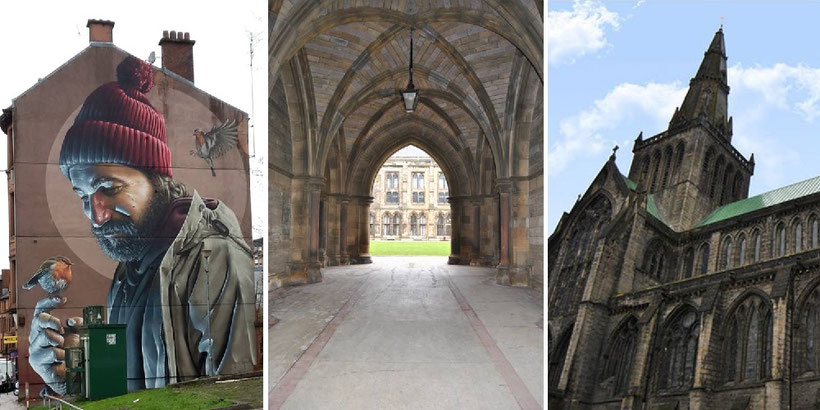 Glasgow, the largest city in Scotland, offers many interesting tourist attractions and most of them are free of charge. In this blog post I listed 10 things to see and do in Glasgow which should definitely not missed out when visiting this great city. To discover all these attractions like imposing medieval buildings, interesting museums or modern Street Art murals two days should be enough time.
---
10 things to see and do in Glasgow
1. Visit the impressive St Mungo's Cathedral
The St Mungo´s Cathedral is a beautiful medieval cathedral in Glasgow. It derived its name from the patron saint St. Mungo, whose tomb is located in the crypt. The imposing, Gothic building was constructed between the 13th and 15th century and is today one of the most important tourist attractions in Glasgow.  
Address: Castle St, Glasgow G4 0QZ
Opening hours: Monday - Saturday – 9.30 am - 5 pm / Sunday 1 pm - 4.30 pm  (April - September) and Monday - Saturday  – 10 am - 3.30 pm / Sunday 1 pm - 3.30 pm  (October - March)
Admission: free
---
2. Take a walk at Glasgow Necropolis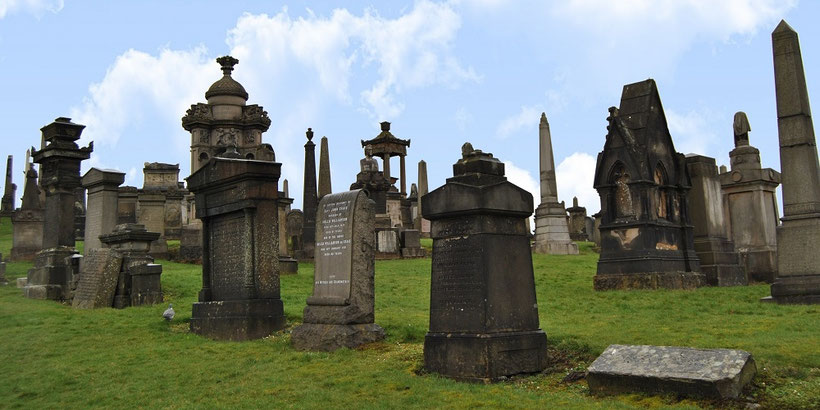 Directly next to St Mungo´s Cathedral at the hill "The Craigs" is one of the most beautiful graveyards in Europa, Glasgow Necropolis. Through a golden gate, followed by a small bridge, you can enter the site. Approximately 50.000 people are buried here, but there are only 3.500 beautiful, imposing gravestones, mausoleums or monuments.
Address: Castle St, Glasgow G4 0QZ
Opening hours: Daily 7.00 am - 4.30 pm
Admission: free
---
3. Feel like a student at Glasgow University
The historical main building of Glasgow University is really worth seeing and the inner courtyard has become a popular Instagram photo motive. You can discover some parts of the university on your own or take a tour for £10.00. The tour lasts approx. one hour. During that time you will not only discover the buildings but also learn a lot about the history of Scotland´s second largest university and some famous graduates. 
Address: University Avenue, Glasgow G12 8QQ
---
4. Visit the Kelvingrove Art Gallery in Glasgow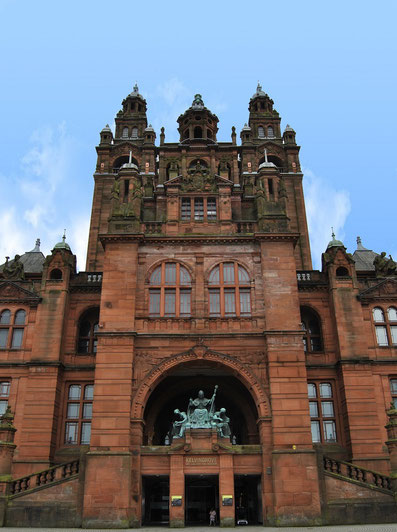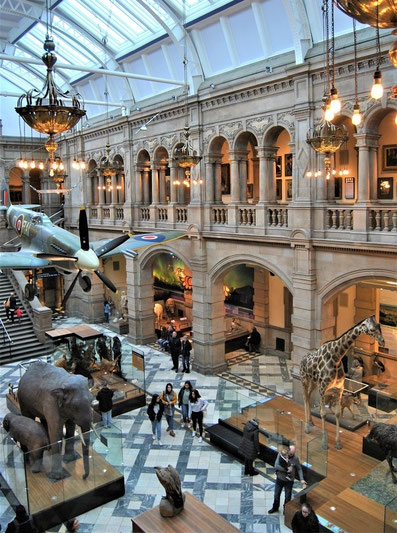 Close to the University of Glasgow is the biggest museum of the city, the Kelvingrove Art Gallery. It is one of the most popular free tourist attractions in Scotland and cannot be missed out when visiting Glasgow. The building, which consists of red sandstone, houses an extensive arms and armour collection, natural history exhibits like huge, stuffed animals and an impressive collection of paintings. Moreover, there are daily and free organ concerts.
Address: Argyle St, Glasgow G3 8AG
Opening hours: Monday - Thursday and Saturday 10 am - 5 pm / Friday and Sunday 11 am - 5 pm 
Admission: free
---
5. Visit the Botanical Gardens of Glasgow
The Botanical Gardens in Glasgow are also located close to the University (walking time approx. 10 minutes). Inside the large park area you can admire numerous plants and flowers, a rose garden, herb gardens and many tame squirrels. Furthermore, there are some historical greenhouses. The most important one is the Kibble Palace, where Australian tree ferns grow.
Address: 730 Great Western Rd, Glasgow G12 0UE
Opening hours: 10 am - 6 pm (April - September) / 10 am - 4 pm (October - March)
Admission: free
---
6. Discover the Riverside Museum in Glasgow
On the bank of the river Clyde there is the Riverside Museum, an impressive transport museum. Inside the modern building with the wave-shaped roofs and the huge glass facade you can discover numerous historical vehicles like cars, bikes, motorbikes, skateboards, busses, boats, carriages and a lot more. My favourite part was the small street with many historical shops. 
Address: Pointhouse Place, Glasgow G3 8RS
Opening hours: Monday - Thursday and Saturday 10 am - 5 pm / Friday and Sunday 11 am - 17 pm 
Admission: free
---
7. Search for great street art in Glasgow
Everywhere in the city there are amazing street art murals. I just listed a few examples for you but I would suggest searching for it by yourself. I am sure, it won´t take long until you find some more.
Picture 1: Maybe Glasgow´s most photographed man - 283 High Street / close to St. Mungo
Picture 2: Hip Hop marionettes - 73 John Street / close to George Square
Picture 3: The world's most economical taxi- Mitchell Street / close to Central Station 
Picture 4: Woman with a loupe - Mitchell Street / close to Central Station
Picture 5: Mushroom picker wearing a kilt - 91 Ingram Street 
Picture 6: Building of the University of Strathclyde - 50 George Street 
---
8. Discover George Square and the surrounding area in Glasgow
George Square is located in the city centre of Glasgow. The square was built in 1781 and named after King George III. Today there are some statues of famous Scots. The central square is surrounded by historical buildings. The most eye-catching one is the Glasgow City Chambers. You can visit it on weekdays at 10.30 am and 2.30 pm by taking a guided tour. Moreover, close to George Squares there are other popular tourist attractions like the Gallery of Modern Art, a famous art museum.
---
9. Eat in Glasgow´s amazing restaurants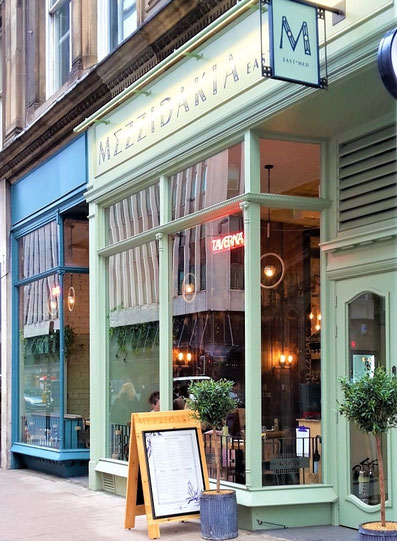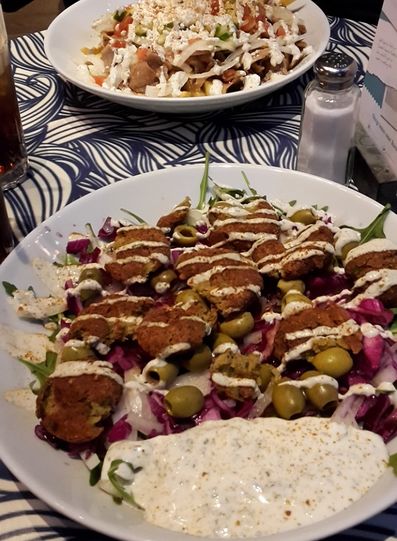 There is hardly any other city where I saw so many amazing restaurants. Unfortunately, our time in Glasgow was pretty limited and we could only eat in a few of these lovely looking places. The best food we had was at a restaurant called Mezzidakia. It is located close to George Squares. They mainly serve Turkish and Greek food in a nice atmosphere and the service was excellent.  
Address: 71-73 St Vincent Street, Glasgow, G2 5TF
Opening hours: Sunday – Thursday 12 pm - 11 pm (food until 10 pm) / Friday & Saturday 12 pm - 12 am (food until 10:30 pm) 
---
10. Find the Paradies (Celtic Park, Glasgow)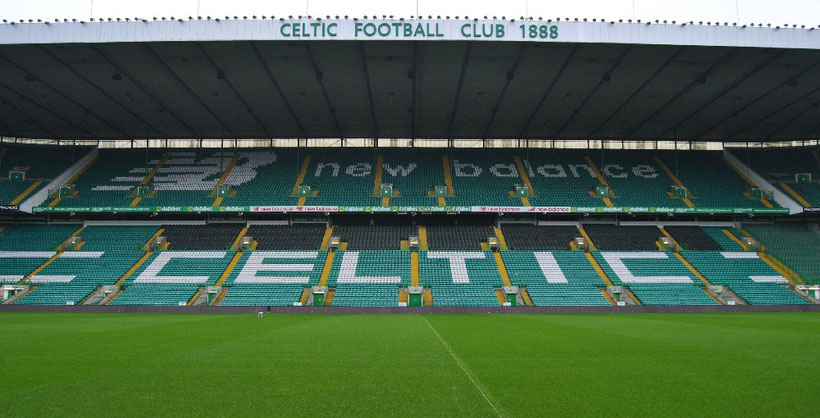 Celtic Park is the home stadium of the traditional football club Celtic FC. Fans like to call it "Paradise" and for only £12.50 you get access to paradise. During an approx. 1.5 hours tour you will get to know the stadium and the history of the football club. 
Address: Celtic Park, Glasgow G40 3RE
Tour: Monday - Friday 11 am and 1.30 pm / Saturday - Sunday every half hour from 10 am - 3.30 pm (Saturday and Sunday match days with a 3pm kick-off have tours from 9.30 am - 11.00 am. No tours are available on match days with an earlier kick off than 3pm.)
Tour start: The tour starts next to the main reception, opposite to the fan shop
Tickets: can be bought at the Celtic FC Website
Costs: £12.50 (adults)
How to get there: There are different busses which go from the city centre to Society Street (journey time approx. 15 minutes) which is close to the stadium
---
11. Book a day tour through the Scotish Highlands
---
Feel free to pin this post on Pinterest: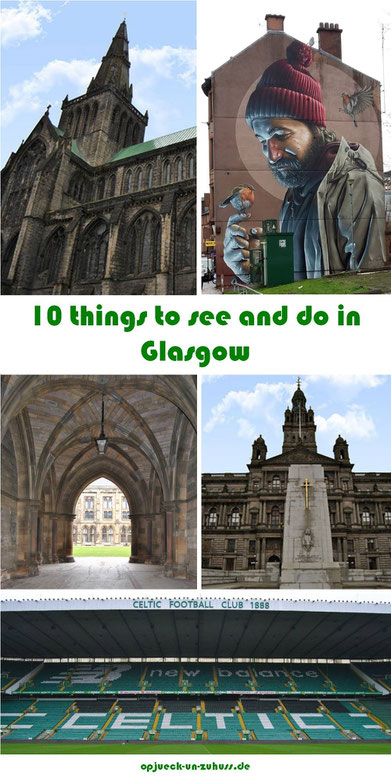 ---