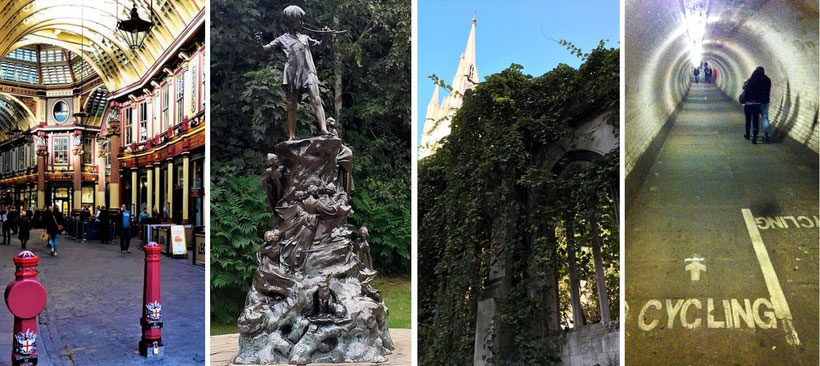 London is huge and full of world famous tourist attractions. But there are also a lot of hidden gems that are well-worth visiting. This is why I would like to introduce some of my favourite "off the beaten track places" in this blog post. I am sure you will love at least a few of these unknown spots as much as I do.
---
Hidden Gems in London
Hidden Gems London: St Dunstan in the East
St Dunstan in the East used to be a church but it was destroyed long ago. Today, the ruin is a beautiful quiet garden in the City of London. The remaining walls are overgrown with plants which creates an idyllic atmosphere. Moreover, some nice wooden benches invite you to rest for a while.
Next Tube Station:
Monument (Circle or District Line)
Next bus stop:
Great Tower Street (Bus No. 15)
Tourist attractions close to St.  Dunstan in the East:
The Monument
Tower of London
London Bridge
Sky Garden
Leadenhall Market
The Gherkin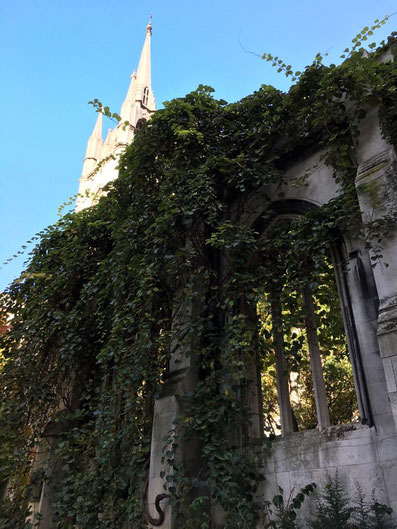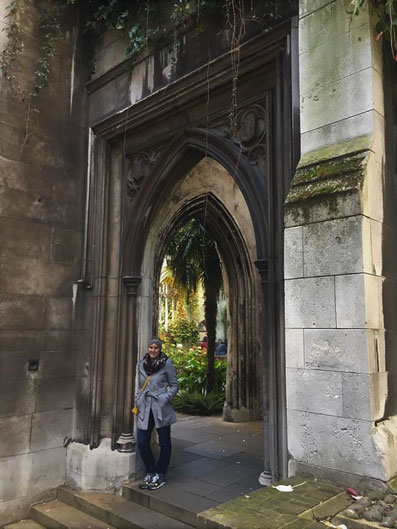 ---
Hidden Gems London: Highgate Cemetery
Highgate Cemetery is a Victorian graveyard from the 19th century in North London. There are numerous extraordinary tombs and statues. The cemetery is divided into two parts; East Cemetery and West Cemetery. You can visit the eastern part for 4 GBP on your own. The most famous tomb there is probably the one of Karl Marx. At the entrance you will get a free map, so that you can find the tomb easily. The western part can only be visited with a guide. The tour takes approx. 70 minutes and costs 12 GBP per person. George Michael's tomb is not part of the tour. But vampire and Harry Potter fans will love this tour because the western part was used fo filming the movies Dracula with Christopher Lee and fantastic beasts 2.
Next Tube Station:
Next bus stops: 
Parliament Hill Fields (Bus No. 214)
Brookfield Park (Bus No. C11)
Tourist attractions close to Highgate Cemetery:
Hampstead Heath Park (Parliament Hill Viewpoint, Kenwood House)
---
Hidden Gems London: Kyoto Garden
Kyoto Garden is part of Holland Park and located close to Notting Hill. The small park opened in 1991. It was a present from the city Kyoto to celebrate the long friendship between Japan and Great Britain. Inside the beautiful Japanese garden is a beautiful pond with many koi carp, a waterfall, stone lanterns, maple trees and peacocks. The perfect location for a nice walk in London away from the typical tourist attractions.
Next Tube Stations:
Holland Park (Central Line)
High Street Kensington (Circle or District Line)
Next bus stop:
Holland Park (Bus No. 31, 94, 148, 228)
Tourust attractions close to Kyoto Garden:
Notting Hill
Kensington Palace
Natural History Museum
---
Hidden Gems London: Neal´s Yard
Neal´s Yard is a colourful backyard close to Covent Gardens. This  backyard is a perfect photo spot. Moreover, there are some nice restaurants and cafes like the vegan Wild Food Café, the African restaurant "The Barbary" or the bakery St. John. Also you will find a nail spa, a hairdresser, a yogastudio and a shop for organic beauty products at Neil's Yard.
Next Tube Stations:
Covent Garden (Piccadilly Line)
Tottenham Court Road (Central and Northern Line)
Tourist attractions close to Neal´s Yard: 
Covent Garden
London Transport Museum
Leicester Square
China Town
Many theatres, shops, bars and restaurants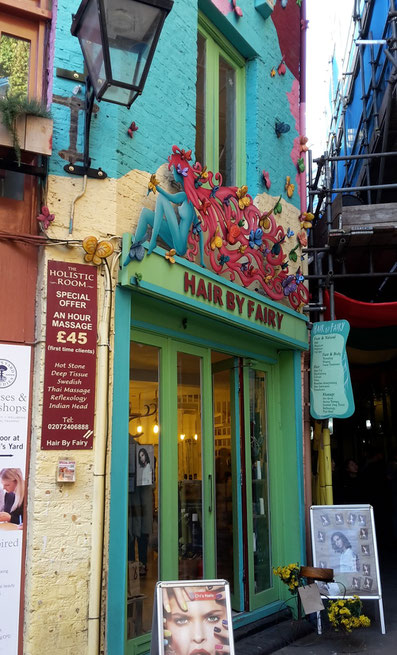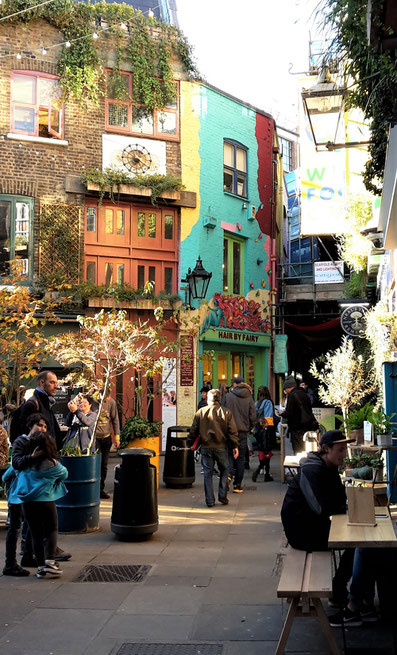 ---
Hidden Gems London: Backyard at Brick Lane in Shoreditch
Brick Lane in Shoreditch is well known when it comes to street art. Who wants to explore the area on its own, should not miss a hidden backyard close to Brick Lane number 53. This extraordinary backyard is full of great, colourful artworks. A must see location for art fans and an amazing photo spot.
Next Tube Stations:
Aldgate East (District und Hammersmith & City Line)
Liverpool Street (Central, Circle, Hammersmith & City or Metropolitan Line)
Shoreditch High Street (Overground)
Next bus stop:
Brushfield Street (Bus No. 67)
Tourist attractions close to Brick Lane:
Brick Lane Market
Old Spitalfields Market
Columbia Road Flower Market
---
Hidden Gems London: FC Fulham football stadium
Football fans may think of Arsenal, Tottenham or Chelsea when thinking of football clubs in London. But I would like to recommend the football stadium of FC Fulham to you because for me it's the most interesting and charming football stadium in London. The old building "Craven Cottage" is unique in the world of football. It is located inside a residential area next to the Thames. Long time ago there used to be a forest and a hunting lodge in this area. This 200 years old lodge is still there and today it is used as a VIP area. Moreover the stadium has the oldest stand of English professional football. Tickets for a football match are pretty cheap and not difficult to get compared to other clubs (from approx. 25 GBP). When there is no match you can also book a guided stadium tour (15 GBP per person). 
Next Tube Station:
Putney Bridge (District Line)
Next bus stops:
Kingwood Road or Lambrook Terrace (Bus No. 74, 220, 430)
Tourist attraction close to Craven Cottage:

---
Hidden Gems London: Greenwich Foot Tunnel
For me Greenwich is an area that too many London tourists miss and I have no idea why. This beautiful neighbourhood is listed on the UNESCO world heritage list and offers many interesting museums. Furthermore the Greenwich Market is one of the most beautiful markets in London and Greenwich Park offers an amazing  view over London. A nice hidden gem there is the Greenwich food tunnel. This pedestrian tunnel was opened in 1902 and gives you the opportunity to walk under the Thames at a depth of 15 meters. The entrance in Greenwich is directly next to the national maritime museum. After approximately 370 meters you will reach the northern riverbank. There you can catch the DLR (station: island gardens) to go to the City of London (20 minutes).
Next Tube Station:
Greenwich or Island Gardens (DLR)
Next bus stop:
Greenwich Town Centre / Cutty Sark (Bus No. 129, 177, 180, 188, 286, 386)
Tourist attractions in Greenwich:
Greenwich Market
Cutty Sark
Peter Harrison Planetarium
Zero Meridian
Greenwich Park
National Maritime Museum
---
Hidden Gems London: Roof of the Shopping Centre One New Change close to St Pauls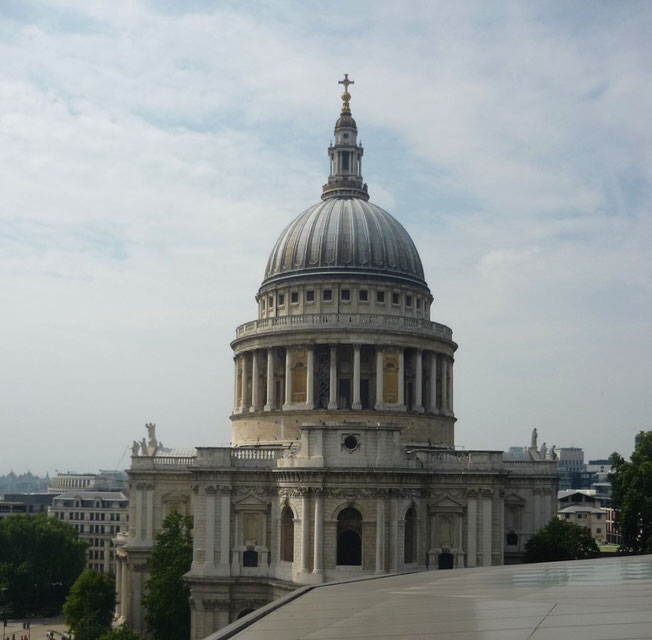 I guess many tourists will visit St. Pauls Cathedral in London. Who wants to enjoy a great view at the huge church should visit the roof terrace of the shopping centre One New Change as well. It is located directly next to St. Paul's. At the terrace there is a nice restaurant / bar called Madison where you can enjoy a cocktail in an amazing atmosphere or have brunch, lunch and dinner. Another tip regarding St. Paul's: attending the evening song is free of charge and a great experience.
Next Tube Station:
Next bus stops:
New Change Cannon Street (Bus No. 4, 15, 17, 26, 76, 388, 521)
St Paul´s Station (Bus No. 8, 25, 242)
Tourist attractions close to this shopping mall:
St Pauls Cathedral
Millennium Bridge
Museum of London
---
Hidden Gems London: Peter Pan Statue at Kensington Gardens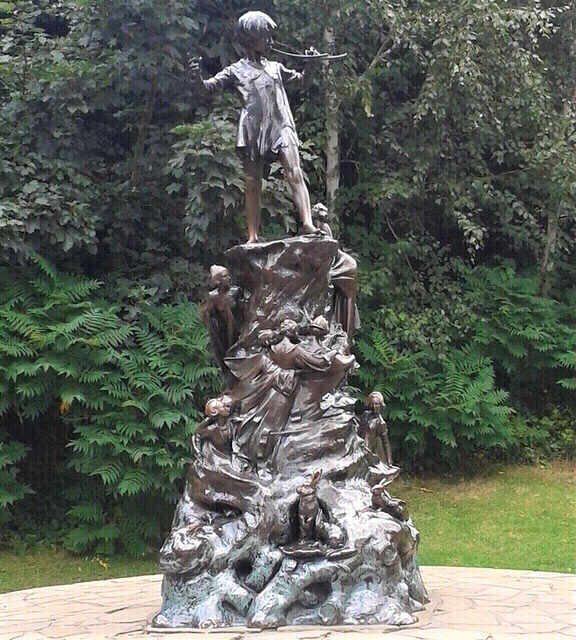 In London's parks there are many hidden gems. My favourite one is the Peter Pan statue at Kensington Gardens. It was build in 1912 at the place where the story of Peter Pans begins. In the book "The little white bird" from J.M. Barrie the fictional character Peter Pan was born. The story is about a young boy named Peter who flies from his children's room in London to Kensington Gardens. When Peter wants to go back home his window is closed and his parents have a new baby. The Peter Pan chapters from "The little white bird" were so successful that a new book was made out of it which is well known to every child today. 
Fans of the boy who never grew up should not miss this hidden gem when walking through Kensington Gardens or Hyde Park. Like you can see in the picture above the statue shows Peter Pan playing the flute on a tree trunk surrounded by fairies, rabbits and squirrels.
Next Tube Station:
Lancaster Gate (Central Line)
Next bus stop:
Lancaster Gate (Bus No. 94, 148)
Tourist attractions close to the Peter Pan Statue:
Hyde Park
Italian Garden
Kensington Palace
Diana Memorial Playground
---
Hidden Gems London: Camden Passage in Islington
Camden Passage is a pedestrian zone in Islington (North London) where many beautiful small shops sell extraordinary cloth and accessories as well as antiques, Japanese art prints or vinyl records. Additional to these shops there are many cosy restaurants, cafés and bars. My favourite one is Kipferl Cafe & Kitchen. The Austrian café offers delicious Austrian food like Kaiserschmarren, Wiener Schnitzel or Käsespätzle. Sometimes, a small market takes place at Camden Passsade as well. The so called Camden Passage Market is known amongst London experts as the best place for vintage clothing and antiques. Opening hours: Wednesday and Saturday 9 am to 6 pm / Friday 10 am to 6 pm and Sunday 11am to 6 pm. 
Next Tube Station:
Next bus stop:
Tourist attractions close to Camden Passage:
---
Hidden Gems London: Leadenhall Market
Leadenhall Market is not a typical market because there are no street stalls which sell street food, cloth or artworks. Leadenhall Market is a beautiful Victorian hall with different shops, restaurants and pubs inside. The architecture is very impressive and well-woth seeing. I guess this is why the "market" was chosen as a film location for the Harry Potter movies. For example, in "Harry Potter and the philosopher´s stone" you can see Harry and Hagrid walking through Leadenhall Market to Diagon Alley.
Next Tube Stations:
Monument (Circle or District Line)
Bank (Central or Northern Line)
Next bus stops: 
St Mary Axe (Bus No. 25)
Fenchurch Street (Bus No. 35, 47, 48, 149, 344)
Road Lane (Bus No. 40) 
Tourist attractions close to Leadenhall Market: 
Monument
Tower of London
The Gherkin
Sky Garden
St Dunstan in the East
---
Hidden Gems London: Sky Garden
Do you love viewpoints? Then you have to visit Sky Garden. This viewing platform is located in one of the uppermost floors of the Walkie Talkie building in the City of London. And the best is the skyscraper at Fenchurch Street is completely free of charge. But book your free ticket in advance. Otherwise, you will miss the great 360° view and the beautiful garden with many nice plants.
Next Tube Station:
Monument (Circle and District Line)
Next bus stops: 
Road Lane (Bus No. 40)
Monument (Bus No. 15)
Tourist attractions close to Sky Garden: 
The Monument
Leadenhall Market
St Dunstan in the East
London Bridge
---
Hidden gems in London I haven´t visited yet:
Neasden Temple - one of the largest Hindu temple outside of India
Wilton´s Music Hall - a historically protected event hall
Daunt Books - a beautiful book store
Little Venice - a beautiful neighbourhood in London, that looks like Venice in Italy
Cross Bones Graveyard - an old graveyard for prostitutes and homeless people close to Borough Market
The Garden at 120 - a new, free viewpoint in the City of London 
Guildhall Yard - a beautiful square in the City of London. Today the town hall of the city is located there. Inside the building is the Guildhall Art Gallery. In early times an amphitheater was located at the square.
---