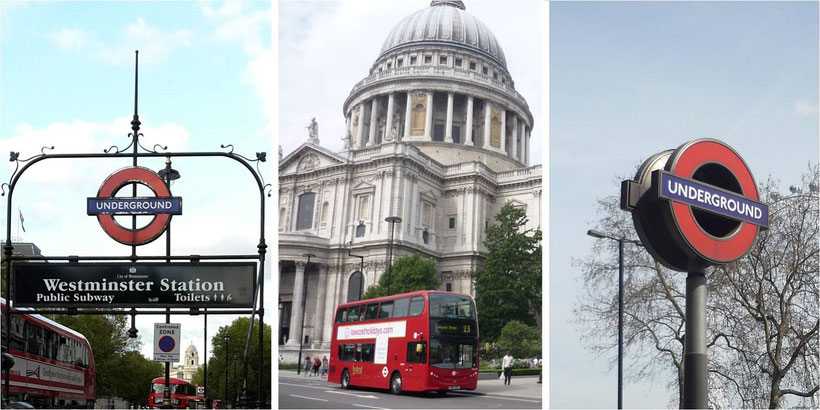 London has an excellently planned public transport network. 12 different underground (tube) lines with approx. 270 stations and numerous buses bring tourists and locals from A to B.  In this blog post I listed some tips how to behave while travelling by tube or bus. So please avoid the following 10 things and your journey will be more relaxed. And never forget to keep calm and mind the gap! ;)
---
Punblic transport in London - 10 things to avoid
1. Don´t stand on the left side of an escalator
Already when entering the tube station there is something to keep in mind, because there is an unwritten law: stand right, walk left. Who stands on the left side of an escalator labels himself as an annoying tourist who is in London for the first time.
---
2. Don´t try to stop the doors
Never try to stop the automatically closing tube doors. That can be painful. The tube doors don´t have a safety mechanism. Therefore the doors don´t reopen immediately when something or someone is squeezed between them.
---
3. Don´t forget to scan your ticket
Most tube stations in London have electronical barriers and you cannot enter the station without a valid ticket. If there is no barrier it is easy to forget scanning your travel card. When leaving the tube at another stop, it´s not possible to pass the barrier. Then you have to call the staff and most likely pay a penalty.
---
4. Don´t travel during peak time
If possible, don´t travel during the so called peak time*, especially not within the bank district. It is super overcrowded. Also the tube prices for a single journey in zone 1-6 are higher. 
*Peak time: Monday to Friday 6:30 am to 9:30 am and 4 pm to 7 pm.
---
5. Don´t wait for the bus while day dreaming
Bus drivers in London don´t stop just because they see you standing at the bus stop. You have to give them a hand signal. When standing at a bus stop close to the famous tourist attractions I guess there are always enough people who want to leave the bus and don´t paying attantion is not problem. But standing at a bus stop outside the city centre this advice can be very important.
---
6. Don´t enter the bus using the backdoor
In many busses you have to scan your ticket at the front. Therefore, it is recommended to use the front door. By the way, if you want to buy a single bus ticket inside the bus, you should have the exact amount of money (more or less) because the drivers often don´t have a lot of change.
---
7. Don´t push!
Even during rush hour at crowded stops locals are pretty relaxed and don´t push. Therefore you should also keep calm!
---
8. Don´t plan too little time
If the bus driver thinks the bus is too crowded he won´t stop. During rush hour this is not unlikely to happen. Also the tube can get stuck for a few minutes or be so crowded that you cannot get in. Thus, plan enough time if you have to be at a specific place at a specific time.
---
9. Don´t make too much noise, especially during peak time
Like explained, try to avoid travelling by tube or bus during peak time. If you have to travel by public transport during rush hour, please keep calm and don´t make too much noise! Most locals want to travel in peace and are annoyed by noisy tourists. Be considerate of other passengers. While you are on vacation, other people are on their way to work.
---
10. Don´t leave your backpack on
Often public transport in London is pretty crowded. If you have a backpack, please take it off and put it on the ground between your own feet. Otherwise you need too much space or squeeze your backpack in the faces of other passengers. 
---
Finally one general advice: Many tourists in London only travel by tube. But the city has an excellently planned bus network including many night busses. Furthermore, bus number 24 or bus number 15 in combination with bus number 9 are great alternatives to the expensive Hop On Hop Off busses. (More information about it can be found in my blog post: Tips on traveling London on a budget.) To check how to go from A to B by public transport, use this website: https://tfl.gov.uk/
---
Feel free to pin this post on Pinterest: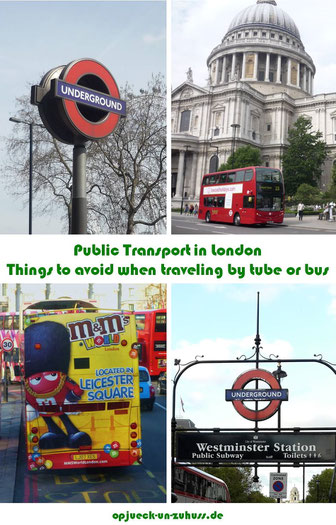 ---