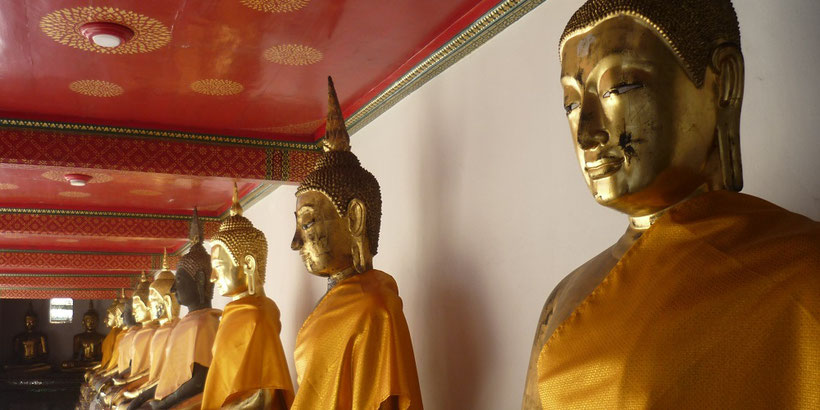 A self-organised round trip requires a lot of research. Therefore, I visited infinite numbers of websites and blogs before I found the perfect route for our trip through the land of smiles.
---
Thailand - The perfect itinerary for 2 weeks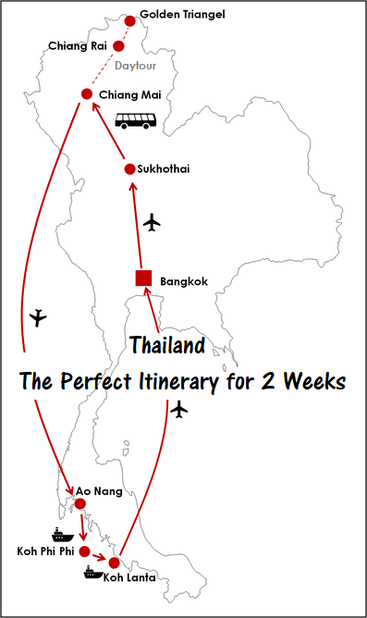 Grand Palace and Wat Phra Khaeo
Day 1: Like most Thailand travellers we arrived at the international airport Bangkok-Suvarnabhumi. After arriving we took a taxi to our hotel Cacha Hotel Bangkok (highly recommendable – stylish, cheap, clean and well located).
We changed our outfits and started our day at one of the most visited attractions in Bangkok. The Grand Palace was more than 100 years the residence of the kings of Siam, which is today known as Thailand. From a distance we already saw the roofs of some of the different buildings (more that 100), which are surrounded by a 2 km long wall.
Warning: You can only get in wearing long clothes and close shoes. I had a long pair of trousers, a tank top and sneakers as well as a scarf for my shoulders. Nevertheless I had to borrow a blouse.
The Wat Phra Kaeo (Wat = Temple) is located inside the complex of the royal palace. It is Thailand´s most important temple, because it hosts the most worshipped Buddha statue of the country, the Emerald Buddha. The 66 cm high statue, which brings wealth and legitimacy due to their magical power, has three different robes. Three times a year these robes are changes by the king during a festive ceremony.
Wat Pho (Temple of the lying Buddha)
The next stop is Wat Pho (Temple of the lying Buddha) which is only a few minutes' walk away. The impressive 46-meters long and 15-meters high gilded Buddha made the oldest temple of Bangkok so famous.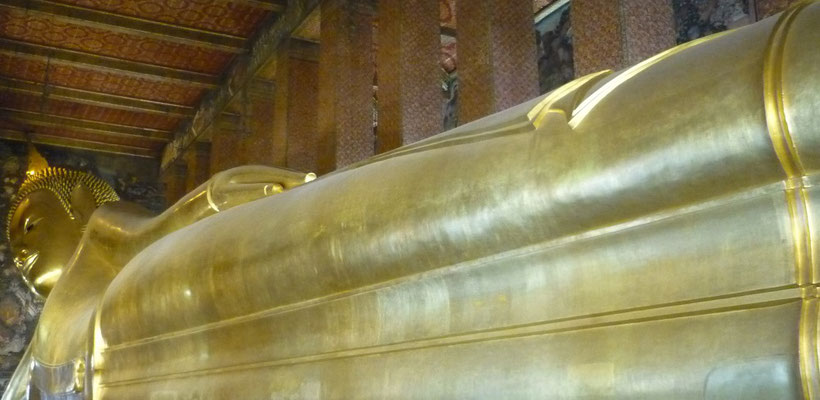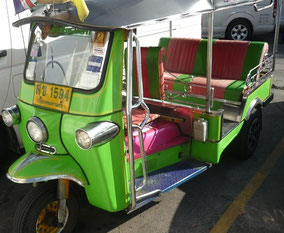 In the afternoon we went back to our hotel by Tuk-Tuk. You should not miss at least one adventurous Tuk-Tuk ride in Bangkok´s chaotic traffic. 
Recommendation: When you are close to the Grand Palace or Wat Pho and you want to take a taxi or Tuk-Tuk, you should go for a walk and leave this tourist area. Then the costs for a ride will decrease significantly.
Restaurant Heap Pub and Restaurant Bangkok
After this exhausting day we just wanted to go out for dinner near the hotel. We walked around and found a very nice restaurant "Heap Pub and Restaurant" – very good food and great live music!
---
Wat Arun (Tempel of the Dawn)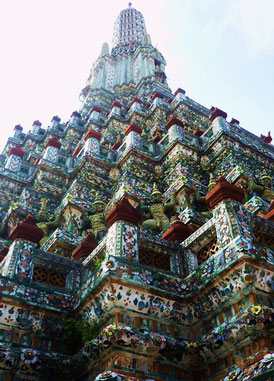 Day 2:
At the next morning we took a taxi (taxis are a great transport in Thailand - comfortable and very cheap) to Wat Arun (temple of the dawn). My personal highlight in Bangkok: The main tower Phra Prang is approximately 80 m high. It is covered with thousand of piece of colourful porcelain, which is arranged to different flower patterns. Via four steep staircases you can climb the four levels of the beautiful tower. On the top you will be rewarded with an unforgettable view of the city and the Grand Palace.
According to legend during construction the workers run out of porcelain and all inhabitants of the country are asked by the king to bring every piece of broken porcelain to the construction side.  The inhabitants met this request  and the tower could be finished.
Chinatown Bangkok
After leaving this attraction, we went by boat to the other side of the river Chao Phraya, walked through the Saranrom Park and went by taxi to Chinatown. In my opinion this part of the city is not worth visiting but when walking around we found some other nice temple like Wat Samphanthawong.   
Restaurant Cabbages & Condoms
We spend the second night at a restaurant called Cabbages and Condoms – very delicious food in a special atmosphere, where you can find several artworks made out of condoms.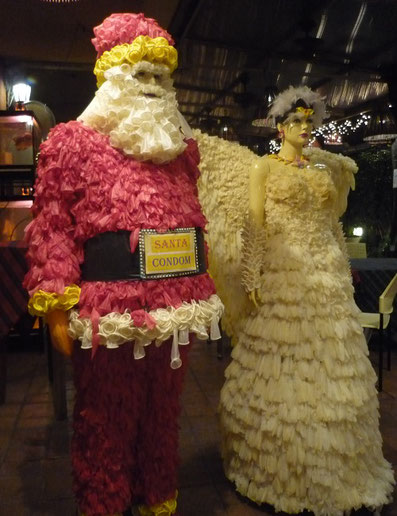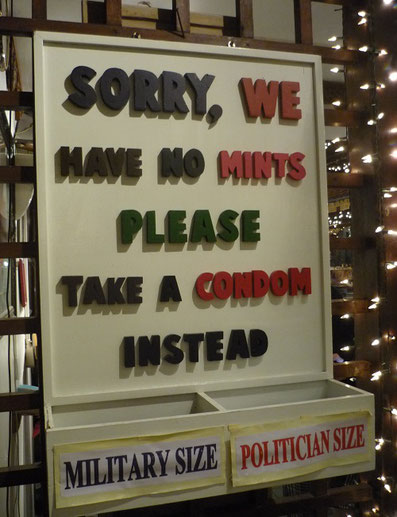 Rooftop Bar Vertigo Bangkok
After dinner we had drinks at a rooftop bar called Vertigo. The prices for drinks are pretty high but the spectacular view is worth it.
Warning: At Vertigo there is a dress code. Men in shorts must borrow a long pair of trousers at the entrance.    
What we missed: Khaosan Road, Chatuchak Weekend Market and Lumphini-Park.
Sukhothai - historical Park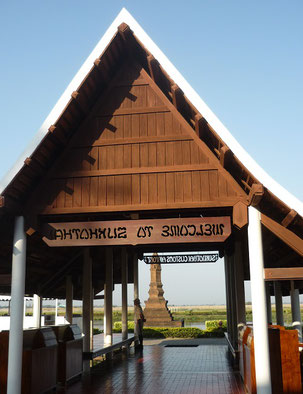 Day 3:
Sukhothai (Dawn of Happiness):
Early in the morning we went from Bangkok to Sukhothai by plane. The arrival itself was already a highlight, because the airport has only a small runway and a unique open air terminal. First of all we went to the main bus station to check the connections to Chiang Mai and to leave our luggage in a hostel close to the station.
Then we went to the historical park – another highlight of the whole trip.
At the entrance of the park, which is listed by UNESCO as a World Heritage Site, there is a bicycle rental and we decided to rent two bikes. Although we travelled around during the high season and all attractions in Bangkok were completely overcrowded, this park was almost deserted in some parts. The spacious grounds, which reminds of "Angkor Wat"in Kambodscha, host various ruins and huge Buddha statues.
Chiang Mai
In the late afternoon we went by bus to Chiang Mai (approx. 5 ½ hours).
Day 4 & 5:
We spend the first two days exploring the old city. We also visited the Chiang Mai Night Safari Zoo. I can absolutely NOT recommend it! It is totally overcrowded. There are two 30 minutes tours. You are in a "safari bus" full of people and drive from enclosure to enclosure. The animals are spotlighted for a few minutes to watch them. 
Chiang Mai the second largest city in Thailand´s with many beautiful temples is highly recommendable. We did a walking tour recommended by Lonely Planet so that we couldn´t miss any highlight.  It starts with the royal temple Wat Phra Singh, continues with Wat Chedi Luang and Wat Phan Tao. Next stop is Wat Chiang Man, the oldest temple in town. The tour end with the monument of the three kings Anusawari Sam Kasat.
Moreover, Chiang Mai is famous for its markets, especially for the night market. The flower market which was recommended in many travel guides was a bit disappointing.
Restaurant DASH
Restaurant recommendation: DASH – nice waiters, excellent Thai food, nice live music and a great atmosphere. We´ve been there on New Year's Eve. All guest and employees had a great time celebrating together and at midnight we had a delicious homemade chocolate cake with vanilla ice cream for free. 
Day trip to the white temple & the long neck women
Day 6:
On this day we made an organised tour. We booked it via our hotel. First stop were the hot springs. Here the water bubbles out of the spring with a temperature of 97°C. Then we went to the white temple, Wat Rong Khun, my personal highlight. The complete white complex glittered and sparkled in the sun. When entering it you first go to hell and then to heaven. Therefore you should not go back but leave the building on the other side. Otherwise you are stuck in hell forever.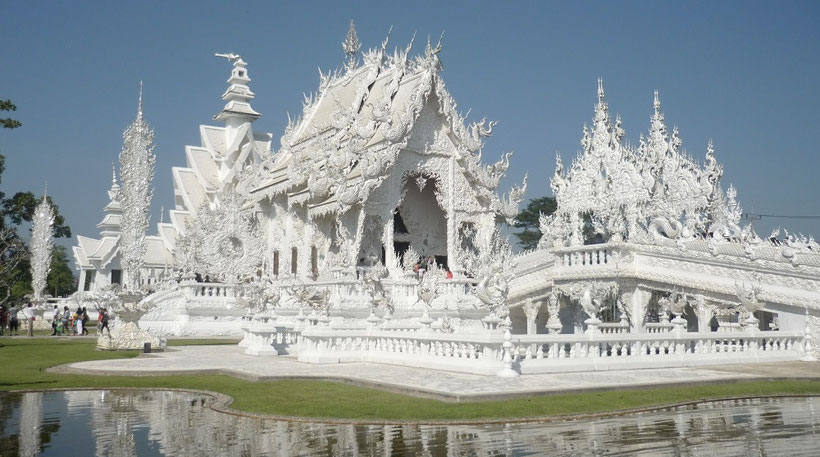 We continued with a boat trip on the Mekong river, which is the natural border of Thailand, Myanmar and Laos. The region is called golden triangle. 
In the past this area was known for opium production, today it is not really worth seeing it in my opinion. Getting a stamp for your passport when crossing the border to Laos, is pretty expensive. Last stop were the Karen people known for women with long necks. Fascinating but unfortunately a little bit like a zoo. Honestly, I wouldn´t do this tour again. I would just go to the white temple. Another nice alternative is a day in an elephant camp. 
Wat Phra That Doi Suthep
Day 7: 
We spend the morning at Wat Phra That Doi Suthep. This temple on top of a mountain should not be missed when visiting Chiang Mai. After arriving you can enter the complex via a long, colourful stairway which is decorated with snakes. Inside the golden Chedi is the most eye-catching attracting.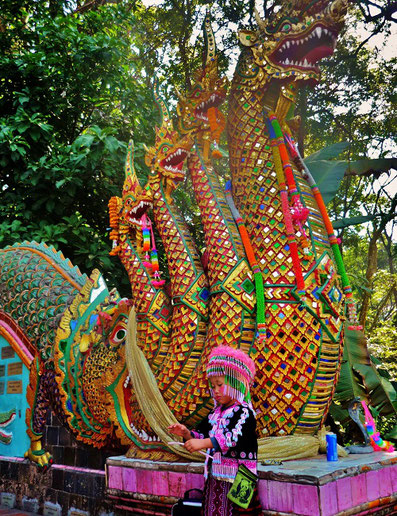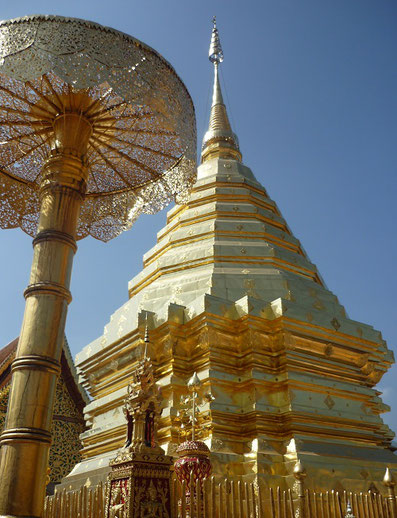 Beaches in Krabi - Railay and Phra Nang Beach
In the afternoon we went to Krabi by plane and then to the small town Ao Nang by car.  The main street, which leaded us from our hotel Ao Nang Miti Resort (recommendable) to the beach, is full of various bars, which offer live music in the evening. At the sea promenade are many delicious seafood restaurants with sea view. 
Day 8 & 9:
Ao Nang is the perfect starting point for different beaches. From Ao Nang Beach to Railay it is approx. 15 minutes by longtail boat. At the beach many of these boats, turqoise water, white sand and high limestone rocks ensure a unforgettable atmosphere. If just relaxing in the sun the whole day is too boring for you, it is possible to participate in a climbing or cooking class or to make a canoe tour.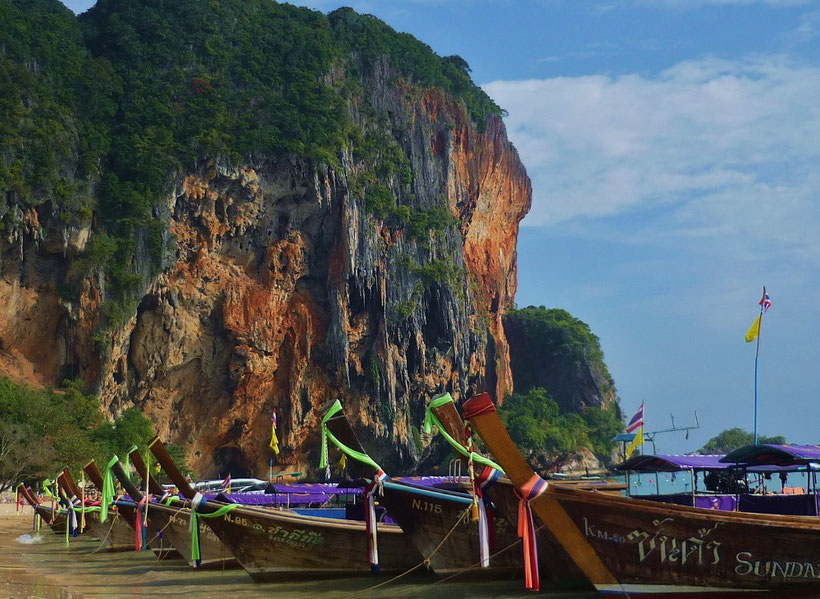 Close to Railay is another beautiful beach: Phra Nang Beach, where a small princess cave with a colorful shrine is located. 
Koh Phi Phi
Day 10, 11 & 12:
On the 10th day we went to Koh Phi Phi by ferry. On the main island our hotel Phi Phi Relax Beach Resort (very recommendable) picked us up with a longtail boat and brought us to their private beach. Here we spend the next 2 ½ days. We slept in small wooden cabins directly at the beach without warm water and electricity after 6 p.m.  The hotel offers Thai massages, island hopping tours and an amazing restaurant.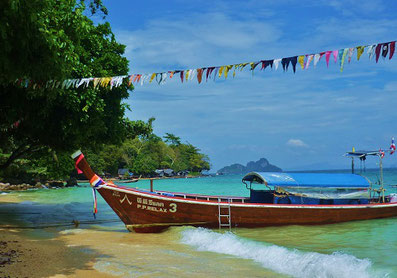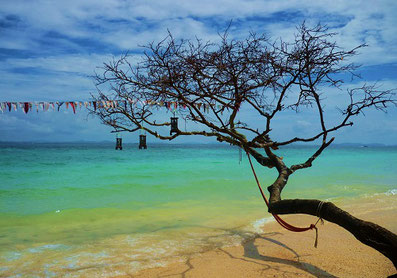 Koh Lanta
Day 12, 13, 14:
The 12th day we went to Koh Lanta, where we spend the rest of our trip. Our hotel the Ancient Realm Resort And Spa (recommendable) is only a few meters from a hidden beach (Bakantiang Beach). Therefore only a few tourists were there – in absolute contrast to Railay and Phra Nang. At night the beach is a large restaurant and you can enjoy a delicious dinner with your feets in the sand.
---
Feel free to safe this post on Pinterest: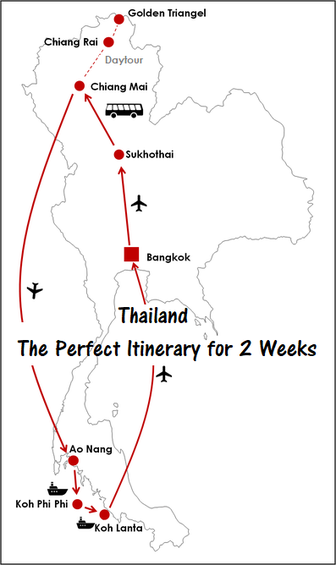 ---