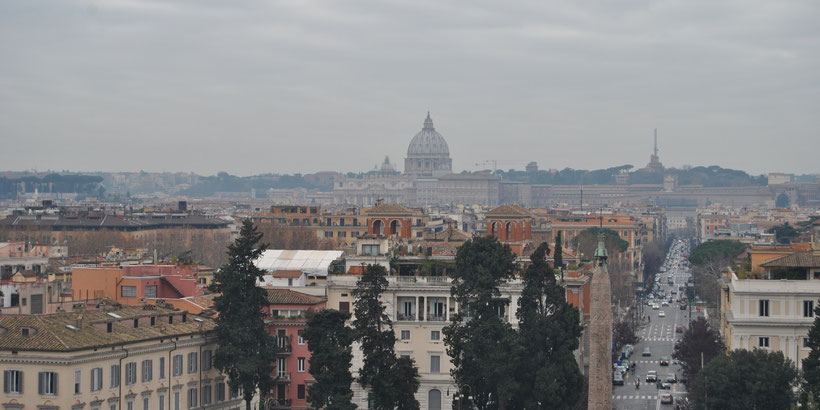 Rome, the Eternal City. Ancient buildings like the Colosseum or the Pantheon and the smallest independent state of the world, Vatican City, attract millions of visitors every year. Unfortunately there will be some tourist traps waiting for you as well. To avoid these when visiting Rome, there are some things you should keep in mind:
---
1. The area around the main station Termini
At the main station in Rome there are many dubious people. Although there are a lot of police men as well, it feels a bit unsafe. Try to avoid this area. Only three blogs away you will feel safe again like in the rest of the city.
---
2. Don´t accept a gift
Close to the famous sightseeing places there are some men trying to give you bracelets, roses or something similar as a "gift". Don´t accept anything and don´t even talk to them. If they put it directly in your hand and do not want to take it back, just put it on the ground and keep walking. Ignore them because this is either a diversionary tactic to steal something or they will ask for money afterwards and won´t go away until they got some. As soon as you take out your wallet, they try to take the amount they like.
---
3. Don´t buy "Skip the Line Tickets" on site
If you don´t want to lose time, buy a Skip the Line Ticket on the internet before your visit. Don´t buy on site because this is more expensive. An example: tickets for Vatican City cost 16€, Skip the Line Tickets on the internet cost 26€ and Skip the Line Tickets on site min. 30€. (See also bullet point 4)
---
4. Don´t listen to the "Official Tour Guides"
The so called Official Tour Guides at the Colosseum, Vatican City etc. want to sell expensive "Skip the Line Tickets". To do so they may lie to you regarding opening hours, ticket prices and a lot more. In front of the Vatican they told us it takes 3 hours to get to the entrance (not true, we waited just 2 hours) and during this time they will close the doors for today (not true!). They recommended to buy Skip the Line Tickets for 55€, including a guided tour and the dome. Skip the Line Tickets without the guided tour are not available (not true!). The normal tickets are only 2€ cheaper (not true, the real price is 16€ for Vatican City + 6€ for the dome). Without these tickets it is not possible to enter the dome directly (to do so please read point 5) and it is a 8km walk to the dome (not true, the real distance is less than 1km). After we waited in the queue for 1 hour they suddenly offered Skip the Line Tickets without a guided tour and the dome for 30€.
At the Colosseum they told us it is not allowed to queue without a ticket. Not true! (Admission fee on site 16€ including Forum Romanum and Palatin)
---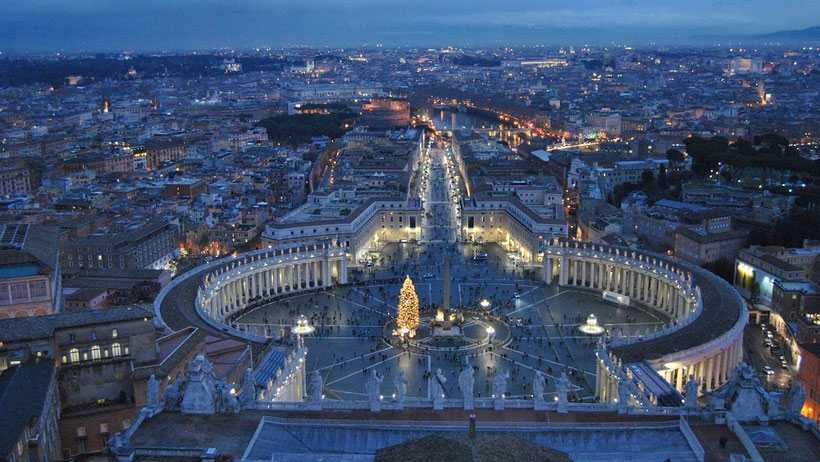 5. Don´t queue twice for Vatican City and the Dome of St. Peters Basilica
First visit the Vatican. After finishing your tour with the Sistine Chapel, leave the chapel and walk left. Outside the building you have to walk downstairs. On the right side there is a ticket office for groups and guided tours. Buy your tickets for the dome there. The cashier won´t care about it. Behind this ticket office is the elevator to enter the dome (Costs when taking the elevator 8€ / when takeing the stairs 6€). On your way back take the stairs and you will end up inside the Basilica.
---
6. Don´t take a picture with a street artist if you don´t want to pay him
At the famous sightseeing places, especially close to the Colosseum, there are many street artists and men dressed like gladiators who want you to take a picture with them. This is how they earn their money. Therefore, don´t expect this to be free of charge. If you want to take this kind of memory home asked them how much they charge before taking your picture. In my experience you should get one for approx. 5€.
---
7. Don´t have breakfast, lunch, dinner or even a coffee at the famous sightseeing places
The restaurants close to the famous squares and sightseeing spots are mostly very expensive. For example it is possible that a cappuccino costs 15€ or more. I would recommend checking out other restaurants in the area on TripAdvisor. Another great possibility to enjoy Italian food is a Food and Wine Tasting Tour.
---
8. Don´t go to a bus station without a ticket
It is not possible to buy tickets inside the bus and there are no ticket machines at the bus stops. You have to buy your ticket in advance at one of the few Metro or Tram stations. Also some kiosks or tobacco stores ("Tabaccai") sell tickets. Of course this is no problem when buying the Roma Pass or a day ticket.
---
9. Try not to take the bus, tram or metro
Rome is a unique open air museum, which can be explored easily by foot. Everywhere in the city you will find small excavations, beautiful streets, gorgeous squares and a lot more. It is really worth it to walk around and to get lost in this beautiful city. Furthermore, don´t spend money for a Hop on Hop off Bus Tour. Just walk!
---
10. Don´t buy expensive water
In Rome there are many fountains with drinking water. Take a plastic bottle with you and refill it instead of buying from the supermarket.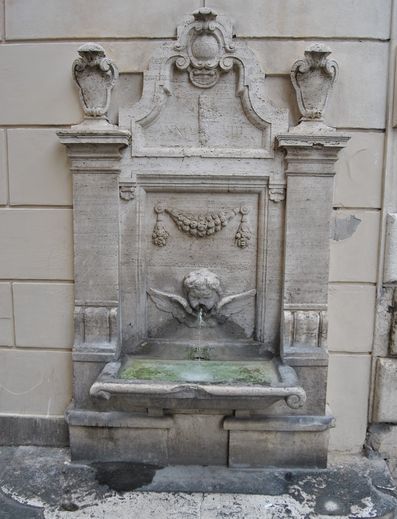 ---
Feel free to safe this post on Pinterest: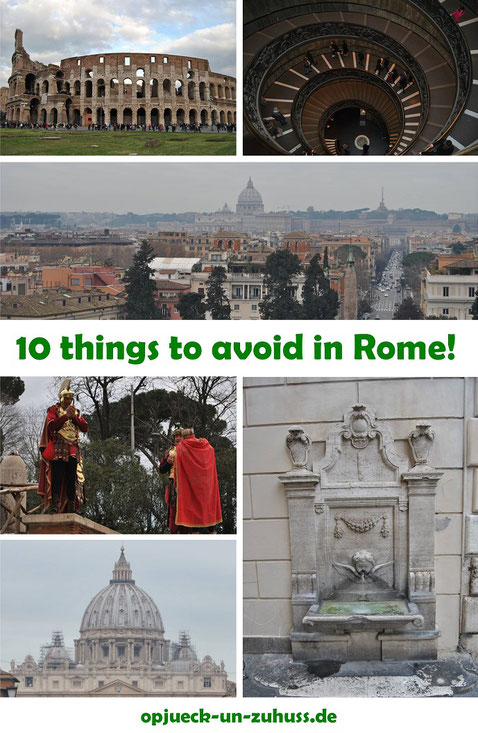 ---