On Wednesday we wanted to go on a day trip to Vinales. Actually this trip was planned one day earlier but the organizer of the tour (booked via Getyourguide.com) didn´t pick us up. The owner of our casa was so lovely and tried to help as good as possible. For one hour she tried to call the organizer but he just didn´t pick up the phone. After two hours of waiting we decided to book the same tour for the next day at hotel Inglaterra. 
---
Day tour Havana to Vinales Valley
Viewing Platform Vinales Valley
The next morning we waited at the hotel at exactly 7.30 a.m. although we knew that 7.30 a.m. here does not really mean 7.30 a.m. Hence we had to wait again. Suddenly an older guy showed up, completely out of breath and sweating. With a strong East European accent he asked: "Are you waiting for a bus to Vinales". We answered with a nod. He told us that he had to run the whole way because he was afraid missing the bus. Every time a bus passed by the hotel, he jumped up nervously. Then a bus with a sign saying "To Vinales" stopped. The nameless guy (he didn´t want to reveal any private information like his name or job - "That´s private") hammered against the bus door. The guide got out of the bus and checked his ticket. Then the discussion started, because it was not the tour he booked. Let´s call him Igor didn´t want to understand why he couldn´t take this bus because the bus stops at his desired destination. Meanwhile also Senna joined our small group. The 30 year old Turkish woman first ordered a coffee at the hotel bar and Igor got completely confused by her calmness. She tried to explain that at Cuba the clocks tick differently but this statement was even more confusing for him. Finally our bus arrived and with a delay of only 30 minutes we started our tour to Vinales. While the guide welcomed all nations we noted that Igor stood up every 3 minutes to go to Senna who was sitting a few seat rows in front of him. At the first stop we found out that Igor was not interested in Senna at all but in her English travel guide, because Igor had a lot of questions. As the journey continued, he started peppering our guide with countless questions and when arriving at Vinales after 2 hours, the whole group knew that Igor is very interested in everything. First stop at Vinales was a viewing platform, which offered a spectacular view over one of the most visited area of the island. The valley has a width of 4 km and a length of 10 km. Green grown limestones (mogotes), Cuba´s national tree, the king palm, as well as countless other plant types characterise this picturesque countryside.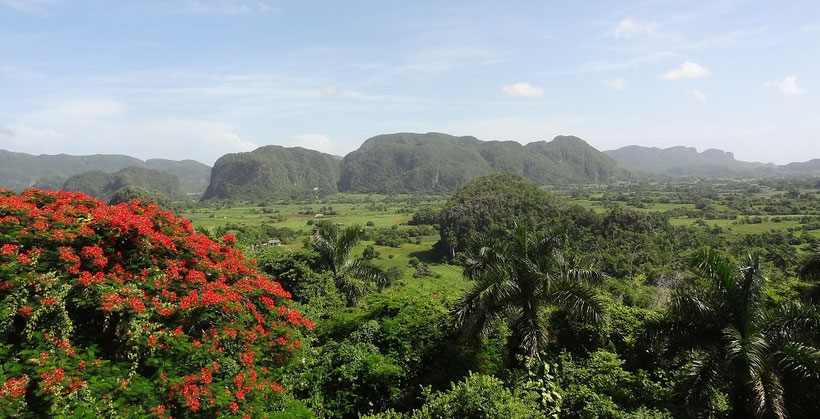 Mural de la Prehistoria
From there it continued to Mural de la Prehistoria. When arriving at this 120 meters high and 180 meters wide painted mural the whole group knew to better stay away from Igor. And this is how we met the American Mike who needed allies on the run from the nameless guy. Together we managed to get a table in the restaurant next to the colorful wall far away from Igor, who changed his yellow shirt to a white fine rib undershirt for lunch. Instead we had to sit next to a French guy who was ready to get drunk. He ordered a Pina Colada and the waiters refilled it with rum several times, all before the main dish was served. He even licked off his plate because there were also a few drops of alcohol. He got so drunk he took one of the meat platters for the whole group just for himself and stuffed it with his fingers in his mouth. Lucky us, this guy wasn´t in our bus.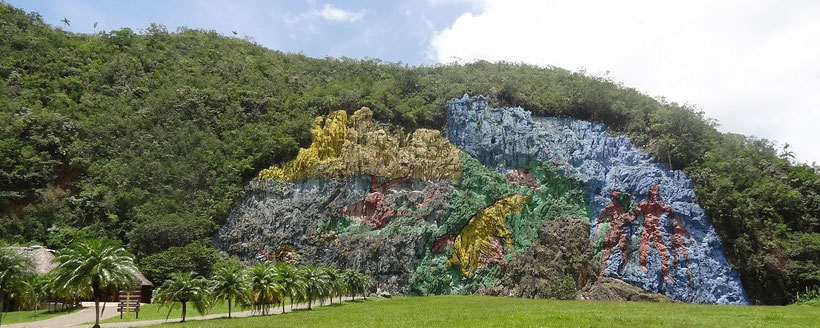 Cueva del Indio
After lunch we visited Cueva del Indio. In this cave the Arawak Indians sought shelter after being displaced from the Spanish. Before entering the cave Mike, Senna and I had to participate in a traditional Indian ceremony. As the self-appointed medicine man recognized Mike´s bandaged knee, he performed a healing ceremony with me and Senna dancing around Mike who swung a cudgel while making Uga-Chaka sounds. But then a living tree rat and an eagle got into action and I left the ceremony :) (As far as I know Mike still had to do the knee surgery.)
Once this spectacle has ended, we entered the cave. Inside we went on a very short boat trip. Because only a small part of the cave is illuminated, the adventure was over after a few minutes. In the meantime it started raining heavily and we got pretty wet.
Visit to a tobacco grower
Last stop was a tobacco farm. The owner explained how to produce tobacco while making a cigar. Igor got very excited and made photos of the whole environment. Then he elbowed his way to the front. He didn´t even recognize that now no one else could make a picture without the back of his head. Suddenly he screamed "Stop, stop!" because he wanted to photograph every single step. Therefore, the tobacco grower had to finish in slow motion to give Igor a perfect shot. Afterwards we got two cigars for the whole group to try. Of course Igor took one of them for himself and so the whole group had to wait for him to finish. On our way back the nameless got speech prohibition from our guide.
---
Feel free to pin this post on Pinterest: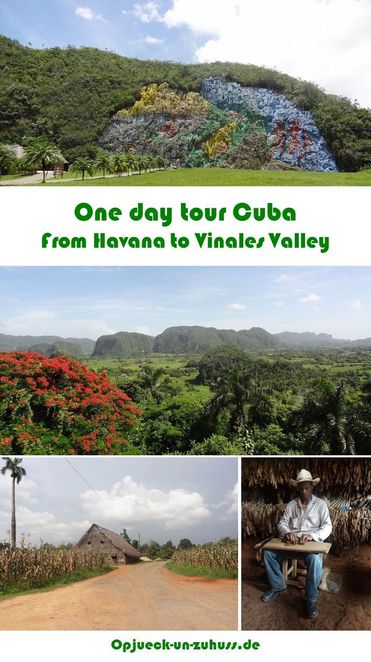 ---